State of the Union: Trump's 'highest' audience boast debunked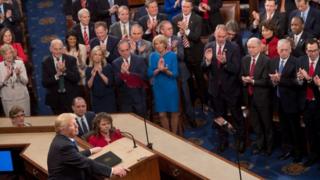 President Donald Trump's boast that TV viewership for his speech to Congress this week was the "highest number in history" is belied by ratings data.
Nielsen, which tracks US TV viewership, says Mr Trump's 45.6m viewers falls short of the numbers who tuned in to other State of the Union addresses.
Nielsen says Presidents Barack Obama, Bill Clinton and George W Bush all drew bigger ratings for their speeches.
Mr Trump's overall audience figure would be boosted by online viewers.
"Thank you for all of the nice compliments and reviews on the State of the Union speech," Mr Trump tweeted on Thursday morning.
"45.6 million people watched, the highest number in history."
But according to Nielsen data, Mr Obama's first official State of the Union speech in 2010 attracted 48 million viewers.
Mr Clinton's State of the Union pulled in a record 66.9 million television viewers in 1993.
Mr Bush pulled in 62.1 million in 2003, a few weeks before the Iraq War.
About one quarter of total viewers watched the speech on Fox News, which Nielsen said received a total 11.5m viewers.
The Nielsen survey comprises data from 12 television networks and does not take into account those who watched online.
CNN said that roughly an hour into Mr Trump's speech, their video-streaming platform peaked at 321,000 simultaneous users.
Twitter said it was the highest-trending State of the Union ever with 4.5 million tweets.
Mr Trump's TV ratings on Tuesday night were higher than those for his inauguration, when about 31 million viewers tuned in.
It is not the first time Mr Trump's claims about audience figures have been questioned.
He estimated that 1.5 million people attended his inauguration speech at the National Mall in Washington DC last year.
But his then-press secretary's estimate gave Mr Trump a crowd size of around half that figure.
In a 2015 profile for Rolling Stone magazine, Mr Trump asserted that his own 757 plane was bigger than the presidential jet, Air Force One.
Air Force One is 225ft (68 metres); Mr Trump's plane is 153ft.
More on Trump's State of the Union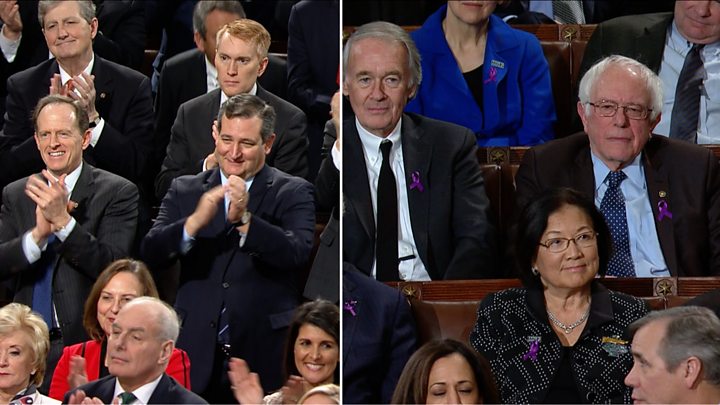 Trump heralds 'new American moment'
Four reactions to Trump speech