Larry Nassar case: Michigan police apologise to victim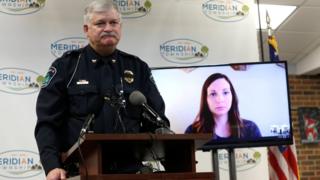 Michigan police have offered a public apology to a woman whose complaint against ex-USA gymnastics doctor Larry Nassar was ignored in 2004.
"We wish we had this one back", police chief Dave Hall said.
Brianne Randall-Gay was 17 years old when she reported Nassar, but police closed the case after he said he was using a medical technique.
Nassar has been accused of sexual abuse by 265 women. He received 40 to 175 years in jail in a separate hearing.
Chief Hall said at a news conference on Thursday that Meridian Township police had been "deceived" by Nassar, who was also a sports doctor for nearby Michigan State University (MSU).
"It should have been passed on to another expert and it wasn't," he said, adding that it was a misstep.
Ms Randall-Gay and her mother reported Nassar's abuse and told authorities he rubbed her breasts and attempted to penetrate her with his fingers, without gloves, according to a police report.
"I felt I was ignored," said Ms Randall-Gay, who was seeking medical advice for a back injury.
Nassar had defended himself by saying he applied pressure to the "perineum", or an area between the legs, to manipulate a ligament, according to the police report.
He provided to police a PowerPoint presentation about the ligament procedure and the case was closed.
Township Manager Frank Walsh said Nassar showed officers a "stack of medical journals".
"He duped us," Mr Walsh said.
Ms Randall-Gay, who appeared at the news conference via video from Washington state, said the apology eased her pain but does not "erase the pain I've suffered".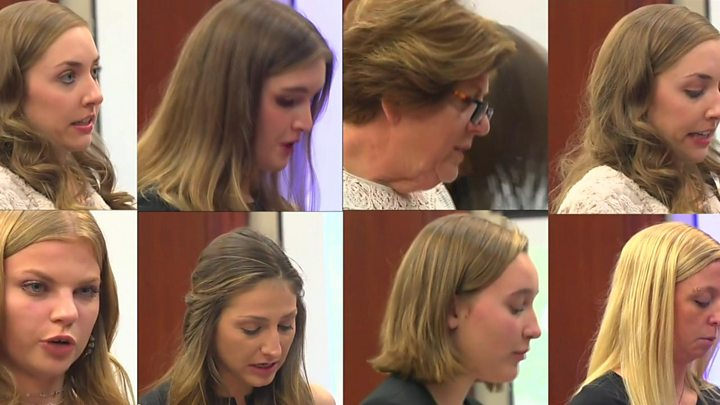 At least 65 victims who allege Nassar molested them are expected to confront him in the last of three sentence hearings this week.
He will be sentenced for molesting patients in the back room of Twistars gymnastics club in Dimondale, Michigan.
The former MSU physician pleaded guilty in November to three counts of first-degree criminal sexual conduct against girls for whom he was supposed to be providing medical care.
At least one of the sexual assaults included a victim younger than 13. Two of the victims were abused at 15 or 16 years old.
Nassar is already serving 60 years in prison for possession of child sex abuse images and last week received 40 to 175 years in prison after nearly 160 women testified that he had molested them.
Nassar's victims included Olympic gold medal winners Aly Raisman and Jordyn Wieber.
A minimum of 25 to 40 years is expected to be added to Nassar's prison sentence after this week's hearing.
MSU, along with USA Gymnastics (USAG) and the US Olympic Committee (USOC), are reeling in the wake of the Nassar scandal.
The USAG board of directors were forced to resign after USOC threatened to revoke the organisation's governing authority.
Meanwhile about 140 victims are suing Nassar, USA Gymnastics and MSU, seeking monetary damages from institutions they accuse of ignoring the allegations.
Michigan's attorney general has launched a criminal investigation into MSU while the university's president and top sports official resigned last week amid the fallout.