Las Vegas shooting: Ammunition dealer charged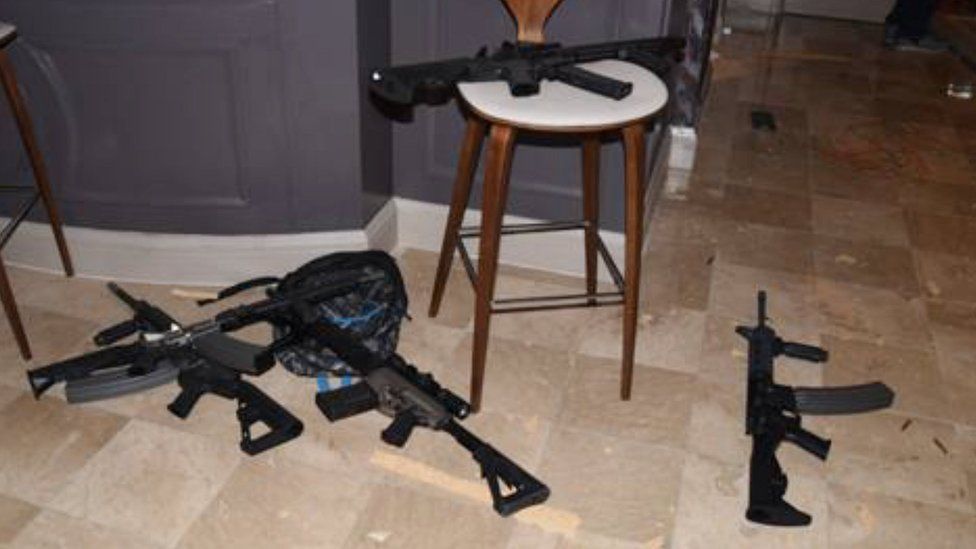 A man who sold ammunition to Las Vegas gunman Stephen Paddock has been charged with conspiracy to manufacture and sell armour-piercing bullets without a licence.
Police said they found Douglas Haig's fingerprints on unused ammunition at the hotel room from where Paddock shot dead 58 people last October.
Mr Haig earlier told a news conference he had nothing to do with the attack.
He said he had met Paddock in September and sold him 720 rounds of ammunition.
Mr Haig, 55, of Mesa, Arizona, is the first person to be charged in connection with the mass shooting - the deadliest in modern US history.
Paddock opened fire on hundreds of people attending a music concert from a 32nd floor window of the Mandalay Bay hotel.
When officers stormed the room they found Paddock dead from a self-inflicted gunshot wound. He had smuggled 24 weapons and thousands of rounds of ammunition into the hotel concealed in 10 suitcases.
According to the charge sheet, investigators also found a cardboard box with Mr Haig's name and address on it that had contained some of the ammunition.
Addressing the news conference, Mr Haig described Paddock as "very well dressed, very well groomed, very polite, very respectful".
He said that when Paddock visited him in Arizona he "told me what he wanted, I gathered it up, put it in a box, told him what he owed me. He paid me, put it in his car and drove away".
Mr Haig said he didn't believe Paddock had used the ammunition he had supplied, which were tracer bullets that leave a fiery trail behind them.
"You would have seen red streaks coming from the window and there weren't red steaks coming from the window," he said.
Mr Haig's lawyer, Marc Victor, suggested that if tracer rounds had been used, people on the ground would have been able to see the pattern of gunfire and shelter more effectively.
Mr Haig has been released on bail pending a preliminary hearing in Phoenix on 15 February.
If convicted he faces up to five years in prison.