Hawaii false alarm worker: I was 100% sure it was real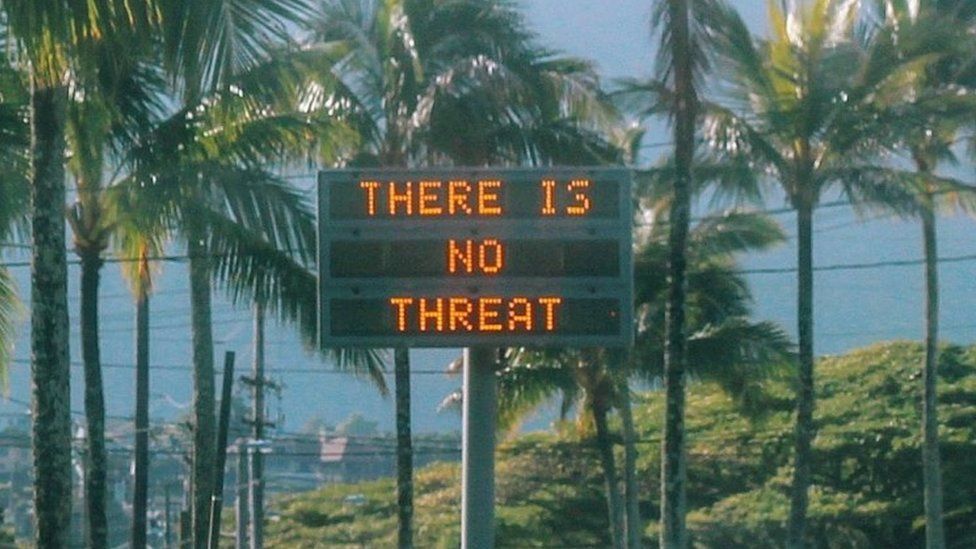 A Hawaiian state worker who sent a false incoming missile alert last month says he is devastated for causing mass panic, but was 100% sure it was real.
"I felt sick afterward. It was like a body blow," the man, who did not want to be identified, told reporters.
The mistake on 13 January sparked wide-scale panic, and it took the authorities 38 minutes to correct it.
The worker has been fired, and two top civilian officials from Hawaii's Emergency Management Agency resigned.
The recorded drill message began and ended with the words: "Exercise! Exercise! Exercise!" But the warning also included "This is not a drill", in a script federal regulators say deviated from established procedure.
"I heard this is not a drill, and I didn't hear exercise at all," the worker who pressed the alert said on Friday, in his first comments since the incident.
"I'm really not to blame for this, it was a system failure and I did what I was trained to do," he told NBC News.
Despite this, state officials say other workers present at the time clearly heard the word "exercise" repeated several times.
The man, believed to be in his fifties, said he did not want to be identified for safety reasons after receiving threats against his life.
According to federal officials, he has refused to co-operate with investigators beyond submitting a written statement. He was also said to have had a "poor performance" on the job, in a separate state report.
Reports say he had been a source of concern for colleagues for 10 years, having confused emergency drills with real-life incidents on at least two occasions.
The false alarm was transmitted to mobile phones and broadcast stations, causing hysteria and panicked evacuations across the Pacific island.
The nearly 40-minute delay in standing down the alert sparked recriminations, with state officials apologising.
"I feel very badly for what's happened, the panic and stress people felt and all the hurt and pain," the employee said. "The last few weeks and it's been very difficult."
The administrator and executive officer of the states's Emergency Management Agency stepped down last Tuesday, after the report on its failures was released.
According to the Federal Communications Commission, measures have been taken by the agency to avoid a repeat of the incident.