US House Speaker Paul Ryan deletes $1.50 tax cut gain tweet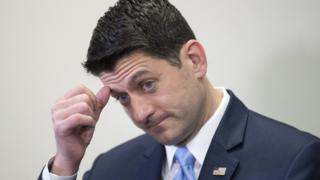 US House speaker Paul Ryan has come under fire after citing a school worker who was $1.50 (£1) a week better off because of recent tax cuts.
Mr Ryan deleted a tweet about a school secretary who, he said, was "pleasantly surprised" by the increase.
The post was widely derided with many social media users saying $1.50 was not a significant pay hike.
It comes after President Donald Trump approved the most sweeping overhaul of the US tax system in decades.
Republicans say the tax reforms will help businesses and individuals, and boost economic growth.
Democrats, who opposed the changes, say the cuts will mainly benefit the ultra-rich.
Mr Ryan, the most senior Republican in the US House of Representatives, had tweeted a link to a report by the Associated Press in which Julia Ketchum, a secretary at a public high school in Lancaster, Pennsylvania, said she would be $78 a year better off, which she said would more than cover her annual membership for the wholesale outlet Costco.
Democratic Leader Nancy Pelosi said Mr Ryan deleted his "embarrassing tweet" because it was a "blatant admission" of the tax bill's unfairness.
In a tweet, she also referred to reports that Mr Ryan's fundraising committee had received $500,000 from billionaire Republican donor Charles Koch days after the tax overhaul was passed.
Others also said the tweet showed Mr Ryan was out of touch with Americans on low incomes.
Mr Ryan has not yet responded to the reaction.