Otto Warmbier's father to attend Olympics in South Korea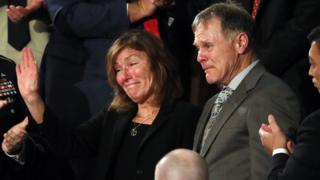 The father of a US student who died after he was released from a North Korean jail will attend the Olympic games as the US vice-president's guest.
Mike Pence announced on Twitter that Fred Warmbier, Otto Warmbier's father, will attend the opening ceremony in Pyeongchang, South Korea on Friday.
Both Koreas are set to march under one flag, signalling a thaw in relations.
But Mr Pence said he wants Mr Warmbier to remind the world of North Korea's human rights abuses.
According to the Washington Post, which first reported on Mr Warmbier's trip, the delegation is the latest US attempt to put pressure on the isolated country to halt their ambitions to become a nuclear power.
Last week Mr Warmbier's parents attended US President Donald Trump's first State of the Union address to Congress as guests of Melania Trump.
"You are powerful witnesses to a menace that threatens our world, and your strength inspires truly us all," Mr Trump said to Fred and Cindy Warmbier and their younger children, Austin and Greta.
"Tonight, we pledge to honour Otto's memory with total American resolve," he added, before also praising a North Korean defector who fled his native country on crutches.
Harrowing tale of Trump's North Korean defector
Mr Pence leaves on Monday for a five-day trip to South Korea and Japan, culminating with a stop in Pyeongchang for the start of the Olympics.
Otto Warmbier, an Ohio native and student at the University of Virginia, was sentenced to 15 years of hard labour in North Korea after he was accused of stealing a hotel sign.
Warmbier parents describe N Korea 'torture'
Mr Warmbier, then 21, was studying abroad in Hong Kong in 2016 when he joined a travel company on a trip to North Korea.
He was released and returned home in June 2016 on medical grounds. He was in a coma when he arrived back in the US and died shortly after.
North Korea said he suffered from botulism, which many US doctors dispute.
His parents said he was "systematically tortured" by North Korean officials, but the regime denies the claims.
The coroner who examined his body said there were no clear signs of torture but that he died from a lack of oxygen to the brain.
In September, Mr Trump said that the student was tortured "beyond belief" by North Korea.
North Korea responded to the torture accusations in a statement saying, "Trump and his clique, for their anti-DPRK propaganda, are again exploiting the death of Otto Warmbier, an American college student who had been under reform through labour for the criminal act he committed against the DPRK and died after returning to the US", referring to its acronym for Democratic People's Republic of Korea.