Two Canadians 'safely' leave Syria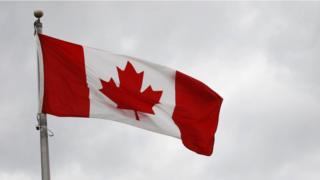 Two Canadians have 'safely' left Syria and have been released to Turkish officials.
Sean Allen Moore and Jolly Bimbachi were picked up by al-Qaeda-linked Hayat Tahrir al-Sham while in Syria.
Hayat Tahrir al-Sham is an al-Qaeda-linked jihadist alliance that dominates the north-western Syrian province of Idlib.
"We are relieved that two Canadian citizens have safely left Syria," said Global Affairs Canada spokeswoman.
Amy Mills said in a statement the department would not offer more details on the case due to privacy concerns.
Ms Bimbachi left Canada for Lebanon last year to search for her children.
Their father had taken them to Lebanon in 2015 to visit relatives but did not return as planned, according to the Chatham Daily News.
Mr Moore was in the Middle East to assist Ms Bimbachi in returning her children to Canada, CBC news reported.
Ms Bimbachi told media in Turkey that she and Mr Moore crossed into Syria from Lebanon, hoping she could get her children to the Canadian embassy in Turkey.
There, they said they ended up in the hands of Hayat Tahrir al-Sham before being transferred to the Salvation Government who assisted in getting them safely to Turkey and in contact with Canadian officials.
Ms Bimbachi said the pair were well-treated. They were both released unharmed.
Both Mr Moore and Ms Bimbachi are from the town of Chatham, Ontario, about 300km (185 miles) southwest of Toronto.
Jeff Bultje told the BBC that his friend Mr Moore was "in the helping business" and had travelled to the region previously on charity missions.
"He loves to dig into stuff," Mr Bultje said. "To set things right."
He said he last spoke to Mr Moore around Christmas.