Incest charge as US woman has baby 'by her biological father'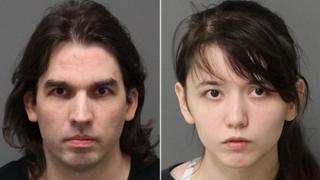 A US man and his biological daughter are accused of an incestuous relationship after authorities say they had a baby together.
Steven Pladl, 42, and Katie Rose Pladl, 20, were arrested at home in North Carolina, after his ex-wife told police he had impregnated their daughter.
According to the arrest warrant, the couple planned to marry despite being legally banned from doing so.
Ms Pladl was legally adopted out of state after her birth in 1998.
The father and daughter, who live in town of Knightdale, just outside the state capital of Raleigh, are both charged with incest and adultery.
They are each being held in custody on bail of $1m (£715,000).
Katie Rose Pladl connected with her biological parents through social media when she turned 18.
She moved in with them and their two other children in August 2016 at their former home near Richmond, Virginia.
Incest charges for mother and daughter
Ms Pladl's birth mother legally separated from her husband in November that year after he began sleeping in his adult daughter's room, she told police.
The ex-wife, who has not been named, said she first learned of her daughter's pregnancy after reading about it in the diary of one of her and Mr Pladl's other children, according to arrest warrants.
She also said that Mr Pladl had admitted to the affair when she confronted him on the phone after their separation.
He had asked the two younger children to refer to Ms Pladl as their step-mother even though she was their sibling, according to court papers.