Olympics: Ivanka Trump to attend closing ceremony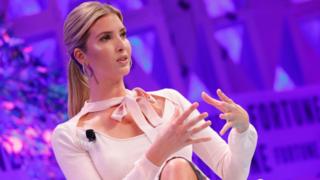 Ivanka Trump is expected to travel to South Korea for the closing ceremony of the 2018 Winter Olympics.
The White House confirmed to BBC News that the first daughter will lead the US delegation in Pyeongchang.
She will also reportedly attend several of the sporting events leading up to the closing ceremony.
Meanwhile, Vice-President Mike Pence said he would not rule out talks with North Korea officials when he attends the Winter Olympics this week.
"I have not requested a meeting, but we'll see what happens," he told reporters in Alaska on Monday during a stopover on his way to Japan and South Korea.
Ms Trump tweeted her excitement last month about the Olympic games, which begin in Pyeongchang, South Korea on 8 February.
She was asked to attend the ceremony by her father, President Donald Trump, and the Olympics Committee, according to a White House official.
Ms Trump worked with the International Olympic Committee to bring the 2028 Summer Games to the city of Los Angeles, the official added.
Mr Pence will lead the US delegation to the opening ceremony, and will join the top US general in South Korea as well as other military and diplomatic officials.
The vice-president said though "all options are on the table" regarding North Korea and its nuclear ambitions, part of the goal of his trip was to "tell the truth about North Korea at every stop".
"We're travelling to the Olympics to make sure that North Korea doesn't use the powerful symbolism and the backdrop of the Winter Olympics to paper over the truth about their regime," he said.
He added that it was "a regime that oppresses its own people, a regime that threatens nations around the world, a regime that continues its headlong rush to develop nuclear weapons and ballistic missiles".
His comments come a day after he announced he would bring to the games the father of a US student who died after he was released from a North Korean jail.
Mr Pence said he would bring Otto Warmbier's father to remind the world of North Korea's human rights abuses.
The Winter Olympics take place as tensions have eased between North and South Korea. The two nations are expected to march under one flag at the opening ceremony and agreed to field a joint team in women's ice hockey.
Olympic officials are also scrambling to contain the spread of a norovirus after 41 members of security staff reported having symptoms of vomiting and diarrhoea.
Some 1,200 of the guards have been withdrawn from Olympic sites.