Philippines president to cancel Canada helicopter deal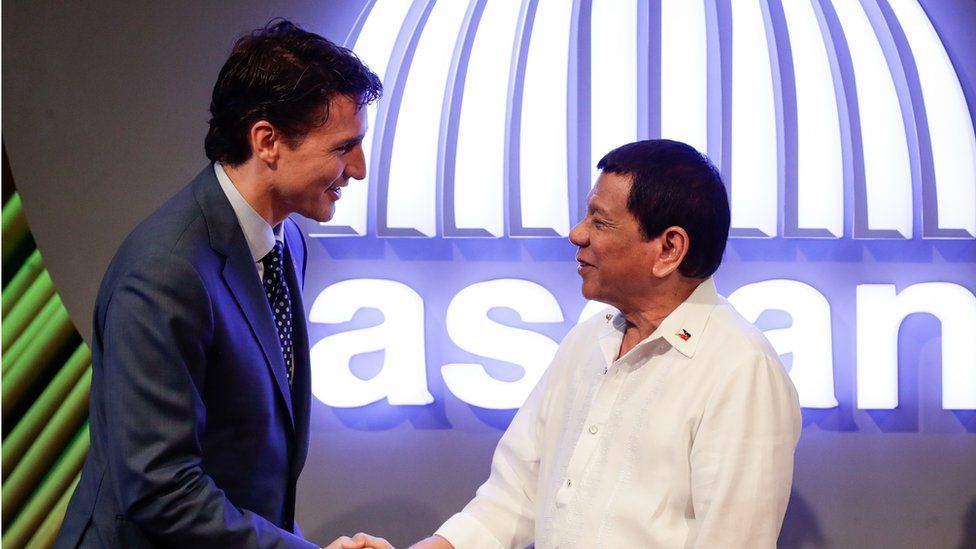 Philippine President Rodrigo Duterte plans to cancel the proposed purchase of 16 helicopters from Canada.
The statement comes after Canada ordered a review of the multi-million dollar deal over human rights concerns.
The concerns were raised when the Philippines military chief said the aircraft would be used in internal security operations.
Mr Duterte said on Friday he would ask the Armed Forces to stop buying defence materials from the US and Canada because" there is always a condition attached".
This week, Philippine Defence Secretary Delfin Lorenzana said the Bell 412 helicopters would be used for humanitarian assistance and disaster relief efforts.
He said the helicopters would be used in a "limited" role primarily "for the transportation of personnel and supplies, ferrying wounded and injured soldiers, and the conduct of humanitarian and assistance and disaster response (HADR) operations".
"They are not attack or close support aircraft," he added.
On Friday, Mr Duterte said it was likely the aircraft would be used "against the rebels and terrorists".
Canadian Prime Minister Justin Trudeau addressed the sale on Wednesday evening during a question-and-answer session during a visit to the US.
The prime minister said Canada has clear rules and controls around the sale of arms and "potential military vehicles like helicopters" to foreign countries.
"We are going to make sure, before this deal or any other deal goes through, that we are abiding by the rules and the expectations," he said.
Human rights groups have criticised the proposed sale to the Philippines.
They accuse Mr Duterte of human rights abuses and carrying out unlawful killings amid his anti-drug campaign.
Thousands of people have allegedly been killed since July 2016 in the crackdown on drug dealers and users.
This week, the International Criminal Court (ICC) said it would open a preliminary inquiry into alleged crimes committed during the Philippines government's war on drug.