Why are so many teenagers running for Kansas governor?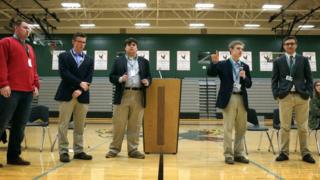 High school students who live in Kansas and elsewhere say they want to be the state's next governor. Here's why that's possible.
Teenagers are now speaking out in ways that are unprecedented. A 15-year-old spoke about school safety with the president at the White House on Wednesday, along with other students who described shootings in their school hallways.
It was a harrowing exchange between the president and the high school students, underscoring the role that teenagers are now playing in public life.
Meanwhile in Kansas high school students are also making their voices heard: several of them are running for governor.
Aaron Coleman, 17, is a candidate. So's Jack Bergeson, 16; Ethan Randleas, 17; Tyler Ruzich, 17; Joseph Tutera Jr, 16, and Dominic Scavuzzo, 17.
Ruzich, a Republican and a Shawnee Mission North student in Overland Park, said he hoped "to energise the youth vote" with his campaign. He spoke to me on the phone on Thursday (it was a snow day at school) and described himself as a "compassionate conservative", saying he wants to increase funding for public schools.
Scavuzzo, a Republican, also hopes to reform the education system, making it more equitable across the state.
"There are certain school districts that are getting a lot of money," he says. "And others aren't getting enough."
He lives in Leawood, and his mother, Wendy, has a frozen-yogurt shop, while his father, Ed, owns a meat factory.
Two of the other candidates, Randleas and Tutera, are also Republican, while Coleman is an independent. He wants to raise minimum wage from $7.25 (£5) to $17 (£12), according to the Ottawa Herald.
Democrat Bergeson also wants a bigger minimum wage - and high-speed rail, as he told NPR.
Two more teenagers who don't even live in Kansas have joined the race. Nicholas Schrieber of Newark, Delaware, and Conner Shelton of Lancaster, Pennsylvania, both say they're planning to run.
So far no girls have entered the race - though one is running for secretary of state, according to the Hutchinson News. Lucy Steyer, a 17-year-old actually from Kansas (Lenexa), claims she plans on running.
You can run for office at any age in Kansas, and you don't have to live there. These laws are part of the state constitution, a document that dates back to the 1800s, said Kelly Arnold, the chairman of Kansas Republican Party.
He said there's been "a kind of snowball effect", explaining that after one teenager decided to run for governor, others followed suit.
And not just teenagers: for a while it looked as though a dog, a three-year-old Vizsla named Angus, would run - though his bid was ended by state officials (a dog, regardless of age, is not allowed to run).
University of Kansas's Patrick Miller agreed that there's been a "bandwagon effect" and that over time more teenagers joined the fray. (He also said he'd heard a cat might run, but so far nothing has happened on that front.)
The election is in November. For many people, it's too early to start thinking about whom they plan to vote for.
Besides that, said Miller, many voters are still suffering from a "hangover" after the tenure of Sam Brownback, a Republican governor who introduced a controversial tax policy in the state. After it was enacted, many state services were cut and Republicans reversed much of his tax policy last year.
In January Brownback was confirmed as ambassador at large for international religious freedom. The state's current governor, Jeff Colyer, served as Brownback's lieutenant governor.
Colyer is running for governor along with at least 10 other adults.
All of the candidates are required to pay a $2,200 filing fee in June, said Arnold, adding that would probably narrow the field. Beyond that, he said, there's likely to be a change in the state law.
Earlier this week the Kansas House passed a bill that imposes restrictions on candidates: in future elections they'll have to be eligible to vote in Kansas in order to run. The legislation is likely to become law, said Arnold, ending some of the more colourful aspects of the race.
With a note of finality he added: "That'll take care of it."