Woman unknowingly adopts dog she gave up as a child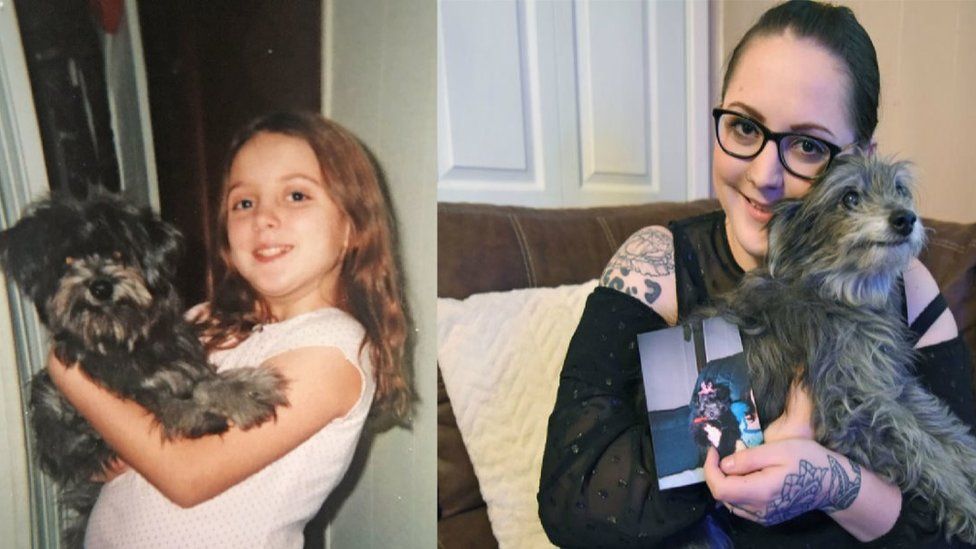 When Nicole Grimes, from the US state of Pennsylvania, spotted a pomeranian-poodle cross for adoption on Facebook, she thought it looked strangely familiar.
Nicole says she was reminded of her beloved childhood puppy called Chloe, so she decided to adopt the 11-year-old dog "on a whim".
Speaking to the BBC, Nicole said: "When I found out they were both called Chloe it was really strange.
"It just clicked when she was introduced to me as Chloe."
Nicole described the moment when she came face-to-face with her 'new' dog.
"When she was dropped off she came running up to me and was licking my face. Then I knew in my heart that she had to be the same dog."
However, her husband was more sceptical: "He thought I was crazy, so we went to check the microchip," she said.
But Nicole's suspicion was confirmed as Chloe was indeed the pet she had given up seven years ago.
"We couldn't believe it. It's just crazy!" she exclaimed.
Originally, Chloe was a gift from Nicole's grandmother.
"I was 10 years old and all I wanted was a puppy. She was wearing a pink bow when Nana gave her to me. We were best friends."
Nicole's grandmother passed away a few years ago, and Nicole says being reunited with Chloe has helped her family process their loss.
Remembering the day she had to give Chloe up for adoption, Nicole recalls her sadness at the time.
"My dad got a new job working from home but Chloe was too yappy and he had to be on the phone all the time.
"I remember my dad picked me up from school when I was 14 with the dog in the back seat. I knew we had to give her away."
Chloe is settling in well in her new home with her old owner.
"She is a little smaller and has no teeth, but she still loves to run around," says Nicole.
Chloe is now playing with the next generation of the Grimes family, as Nicole's four-month-old daughter Violet has bonded with Chloe.
"They love to play with each other. Chloe is very gentle with Violet and it warms my heart to see them together."
By BBC's UGC and Social News team