Cornell fraternity punished for 'pig roast' sex competition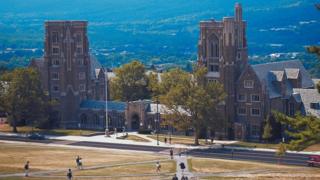 A US fraternity has been disciplined by university authorities after a "pig roast" sex competition was held by some members.
The Zeta Beta Tau group at New York state's Cornell University was found to have conducted a contest where new members won points by sleeping with people.
In a tie, the member who had sex with the heaviest woman would win a bonus.
The fraternity has been put on probation for two years.
A university report said the challenge took place in 2017, but did not specify for how long or how many members were involved.
Those engaging in Zeta Beta Tau's "pig roast" were instructed not to tell women about the contest, the report said.
The university said it violated rules that fraternities must not "tolerate or condone any form of sexually abusive behaviour on the part of its members, whether physical, mental, or emotional".
North American fraternities often hold initiation ceremonies. Those that involve harassment or abuse are known as hazing, and are banned by universities.
A statement posted on the Zeta Beta Tau at Cornell University Facebook page said the contest had not been sanctioned and the chapter only became aware of the allegations in December.
The chapter expressed "mutual disgust" at the contest and said it was "horrified at the notion of the degradation and/or objectification of women".
It said it will review of the incident, and expel members if necessary.
Zeta Beta Tau was founded in 1898 and has chapters across the US and Canada.
As part of their punishment, fraternity members at Cornell University will be required to do mandatory education programs, hire a live-in adviser, and participate in events at a campus Sexual Assault Awareness week.
Cornell University is based in Ithaca, New York and is one of the highest ranking institutions in the US.
---
More like this: