WWE star finds loaded gun in rental car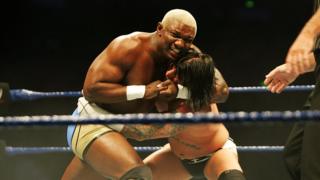 When renting a car it is normal to check for scratches and dents to avoid later being accused of any damage. One thing you might not think is necessary to look for is a loaded handgun in the glove compartment.
However, professional WWE wrester Shelton Benjamin's experience may encourage people to be more careful after that was exactly what he found in the Budget rental car he had been driving for four days.
Benjamin tweeted the company about the discovery, expressing his anger and using language some may find offensive.
Budget have responded to Benjamin, apologising and saying they are handing the matter to local authorities for investigation.
You may also like:
Benjamin's view that Budget had possibly put his "life in jeopardy" follows a series of deaths of black men at the hands of US police, such as Philando Castile in Minnesota, July 2016, who was shot dead in his car when an officer believed he was reaching for a gun.
Several Twitter users shared Benjamin's view about the possible severity of being found with the gun, while one wrestling fan encouraged him to press charges over the discovery.
By Mariam Caulkett, BBC UGC and Social News