Exploding karaoke microphones recalled across Canada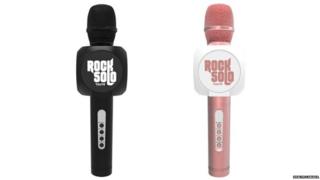 Don't blame the high-notes in Don't Stop Believin' - 70,000 karaoke microphones have been recalled across Canada due to spontaneous combustion.
US manufacturer Tzumi Electronics asked Canadian retailers to pull the Rock Solo Bluetooth microphone from shelves.
Consumer safety watchdog Health Canada warned the product "can overheat which could result in smoking, burning, melting and possible explosion".
Approximately 70,000 units were sold by Wal-Mart in Canada.
The recall does not extend to the US, which sells a different version of the microphone.
More like this:
Canadian media have received several reports from consumers who say their Rock Solo microphones burst into flames.
Sara Ford-Burke told the Chronicle Herald newspaper that the microphone began smoking and then started shooting flames.
"There was smoke going everywhere. So my brother grabbed it, he happened to have glove on," Ms Ford-Burke told the newspaper based in Halifax, Nova Scotia.
"He ripped the back off and I guess it was starting to shoot flames and that, so he ripped the wires out. It was all melting."
Wal-Mart was the only licensed distributor in Canada to sell the microphones, which go by the numbers 5279 BK and 5280 RG, according to a company statement.
"This product was pulled from all retailer's store shelves and the product will be destroyed and disposed of in an environmentally responsible and safe manner," the company said.