Who were the corrupt Baltimore police officers?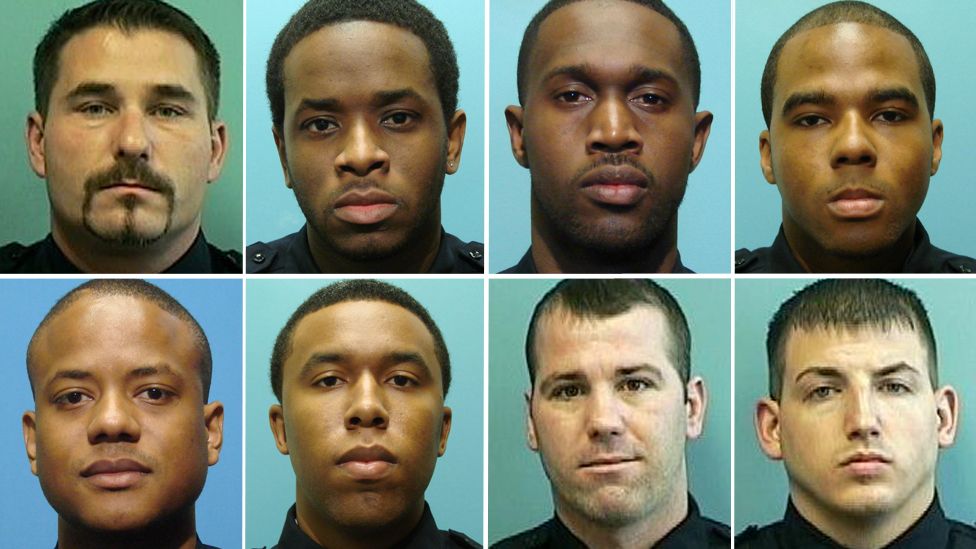 A jury has found two former Baltimore police detectives guilty for their role in a sprawling police corruption scandal, bringing the total number of convicted officers to eight. Who were the members of the Gun Trace Task Force (GTTF)?
When the Baltimore City Police Department created the GTTF, it was intended to be an elite squad of highly-trained officers tasked with seizing illegal guns. Instead, a trial in federal court has revealed that the officers went rogue, and used their power to steal money, drugs and guns, and terrorise the people they stopped.
In some cases, they even resold the very drugs and guns they were supposed to take off the streets.
All but one of its members was indicted on robbery, extortion and overtime fraud in March 2017 after a lengthy investigation by the FBI. Six pleaded guilty, including Sergeant Wayne Jenkins, the unit's leader since June 2016.
This week, the last two officers still fighting the charges - Daniel Hersl and Marcus Taylor - were found guilty of robbery, conspiracy and racketeering, but acquitted of possession of a firearm in a crime of violence. Testimony from four of the unit's former members revealed in greater detail the extent of the corruption and the lengths to which the GTTF would go to cover their tracks.
Here is a breakdown of some of the players and the most shocking revelations from the case.
Jenkins pleaded guilty to regularly stealing drugs from the people he stopped or arrested. He re-sold the drugs through a bail bondsman, who testified that Jenkins would leave large amounts of marijuana, heroin and cocaine in a shed in his backyard on an almost nightly basis. The two men split the proceeds.
Jenkins admitted to stealing cash from people he stopped or arrested during his work as a police officer. In one case described at the trial, Jenkins directed his men to break open a safe containing over $200,000 (£144,500). Jenkins took half the money and two kilos of cocaine, then told the officers to reseal the safe and create a cell phone video pretending to open it for the first time, finding only $100,000 inside.
He also admitted planting 28g of heroin on a man who was then sent to prison.
According to trial testimony, after robbing a high-level drug dealer, Jenkins listened to the man's phone calls to his wife from jail, telling her to hire a lawyer. In an attempt to stop her, Jenkins had his officers write a fake note purportedly from the husband's mistress. The note was left in the wife's door.
After Jenkins' arrest, federal agents found a huge cache of tools and weapons including brass knuckles, an 18-inch (46cm) machete, a sledgehammer, a grappling hook and several black masks which his former subordinate officers testified he intended to use for home invasions.
Gondo admitted that he provided information and protection to a heroin operation, which included a childhood friend. This included giving advice to a drug dealer after he discovered a police GPS tracker attached to his car.
During the trial, Gondo testified he and another officer planned a burglary, which included using a police tracking device to determine when their target was not home. They stole 800g of heroin, jewellery, watches and a gun.
Gondo admitted he routinely stole cash from people's homes when given the opportunity, and split the take with his fellow officers. He told the jury that after one particularly large score, Jenkins told them, "Don't be greedy. We can do this three times a year."
Rayam admitted that he'd been stealing money long before he joined the Gun Trace Task Force, as early as 2009. He also re-sold stolen drugs and split the proceeds with Jenkins.
He stole $20,000 alongside two friends who posed as police officers during a home invasion.
While committing a different masked home invasion with Officer Momodu Gondo, Rayam was surprised by a woman in the home and held her at gunpoint with his police-issued firearm.
On the stand, Rayam wept after listening to a tape of himself and other members of the task force failing to render aid at the scene of a serious car accident they caused. "It could have been any of us. Any of you, my mother, my father" he told the jury. "We just didn't stop."
As the former head of the GTTF, Allers admitted stealing cash from civilians on several occasions in the course of his police work, along with officers Hersl, Rayam and Gondo.
In one instance, Allers stole $10,000 he found while searching the home of a man named "D.R.". According to Allers' plea agreement, the man was later shot and killed by another man because he could not repay a drug-related debt.
Hendrix admitted stealing money on several occasions, with his fellow officers, during traffic stops and while executing search warrants.
He told the jury that Jenkins instructed them to carry BB-guns in their police cars "in case you need to get yourself out of a situation" like shooting an unarmed suspect.
Ward admitted stealing money during traffic stops and while executing search warrants.
He told the jury that on one occasion, he and Officer Taylor pulled rubbish from a house they needed a search warrant for and recovered evidence of marijuana. They later realised they had taken the trash from the wrong house, but wrote up a fraudulent search warrant anyway.
After the group stole over $100,000 from a safe, Ward testified he was given a $20,000 cut. He claims that because the amount was so large he was scared he would be caught, and dumped the money into a field behind his house. "It was too much," he said. "The bad outweighed the good."
A jury found Hersl guilty for his role in several robberies committed by the squad, including an incident where the officers took over $25,000 from a man's home without charging him a crime.
All of the officers were convicted of overtime fraud - filing paperwork to claim work they never showed up to do.
In 2015, Hersl more than doubled his salary in part from fraudulent overtime claims.
Taylor was characterised at trial as the youngest and most inexperienced officer on the task force.
Former officers testified that their main method of making arrests was "door pops" - driving up to large groups and throwing the doors open as if they were about to arrest someone.
If anyone ran, the officers would chase after them. Taylor was the fastest, and the other officers relied on him to make the apprehensions.
A jury also found Taylor guilty for his role in several robberies involving other members of the squad, including an incident where the officers stole over $100,000 from a high-level drug trafficker's safe.