Risk of deadly car crashes increase after marijuana holiday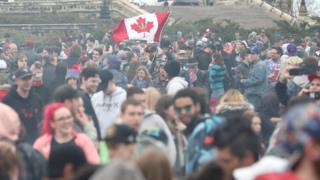 The annual cannabis celebrations on 20 April may lead to more traffic fatalities, new research has found.
Two Canadian researchers combed through 25 years of US traffic data to look at all fatal traffic collisions.
Their findings suggest there is a 12% increase in the relative risk of deadly crashes on 20 April, known as 4/20, compared to other days during the year.
Researchers say they hope the findings will discourage people from driving high on the holiday.
John Staples, a lead researcher at the University of British Columbia, and Donald Redelmeier, of the University of Toronto, examined the number of drivers involved in fatal US collisions after 16:20 local time on 20 April.
Researchers said the association was comparable in magnitude to the traffic risk increase seen on Super Bowl Sunday.
They said the increase amounted to an estimated 142 additional deaths over a quarter of a century.
Mr Staples called the 12% increase "highly significant", noting that drivers under the age of 21 had an increased crash risk of 38%.
He hopes the research encourages people to use a designated driver, public transit or other alternate transportation on 20 April.
The researchers also hope the findings make safer transportation part of 4/20 festivities.
Pot smokers have gathered for years on 20 April to celebrate the consumption of marijuana.
The 4/20 events are organised in cities across Canada and the US, and some are attended by thousands of people.
In the US, nine states as well as Washington, DC have legalised recreational use of the drug.
Canada plans to legalise recreational marijuana this summer.
The Canadian government launched a public service campaign in December to warn about the dangers of driving while impaired on marijuana.
A survey released by the government the same month suggested that 39% of the respondents who were marijuana users reported having driven after taking the drug.
The survey also indicated that there was a lack of education around driving and marijuana.
A majority of respondents were unsure as to how long someone should wait before it was safe to drive after taking marijuana.
Mr Staples said public health authorities need to "keep their eyes on the prize" and continue to discourage all forms of impaired or distracted driving.
"Stay sober, put the phone away, wear your seatbelt, don't speed and don't drive high," he said.