Canada PM Trudeau meets family of slain indigenous man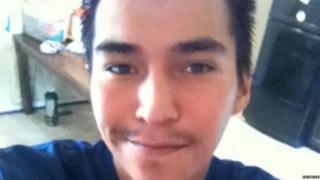 Canadian Prime Minister Justin Trudeau has met the family of a young indigenous man who was killed by a white farmer in 2016.
Gerald Stanley, 56, was acquitted of second-degree murder in the shooting death of 22-year-old Colten Boushie.
The verdict by an all-white jury sparked protests across the country.
Justice Minister Jodie Wilson-Raybould is working on reforms to address inequalities in how the justice system treats indigenous people, she said.
Mr Boushie's mother, cousin and other family members met Mr Trudeau on Tuesday to push for changes to the justice system.
"Everyone we've talked to has been very engaged, respectful and took the time to hear our pain, hear our strength and hear us speak from the heart, including Prime Minister Trudeau, and for that we're very appreciative," Jade Tootoosis, a cousin of Mr Boushie, told reporters outside the House of Commons.
She added that Canadian officials have "promised to work with us to make concrete changes within the [judicial] system".
"And that's exactly what we came here for," she added.
Mr Boushie was a Cree man from the Red Pheasant First Nation in the Canadian province of Saskatchewan.
He was with four friends on Mr Stanley's farm on 9 August, 2016, when the farmer fired three bullets during a confrontation. The third bullet struck Mr Boushie in the head and killed him.
Mr Stanley's lawyers said the shooting was accidental and Mr Boushie and his friends were attempting to steal a vehicle. Prosecutors said the group was seeking help with a flat tyre on their car.
The family has also filed a complaint asking for a review of the police investigation into Mr Boushie's death.
Mrs Wilson-Raybould said she will introduce reforms that address underrepresentation of indigenous people on juries, their overrepresentation in prison and trial delays.
"Individuals have a right to be tried by a jury of their peers," Mrs Wilson-Raybould said on Tuesday.
Critics say the legal use of peremptory challenges, or a lawyer's objection to a proposed juror, helped Mr Stanley's defence keep indigenous people off the jury in the trial.
In 2013, a former Supreme Court justice issued several recommendations to increase indigenous representation on juries in Canada, including changes to peremptory challenges.