Shaun White apologises for calling harassment claim gossip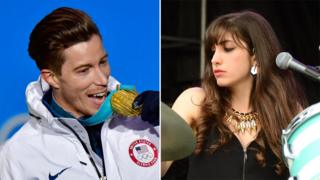 US Olympic snowboarder Shaun White has apologised for calling allegations of sexual harassment against him "gossip".
He said he used "a poor choice of words to describe such a sensitive subject", after becoming the first snowboarder to win three Olympic titles.
The 31-year-old Californian was accused of sexual harassment by a former member of his band.
He denied the claims but settled with Lena Zawaideh last year for an undisclosed amount.
After snatching halfpipe gold on Wednesday, Mr White was questioned about the lawsuit by reporters.
"Honestly, I'm here to talk about the Olympics, not gossip," he said, before being ushered off stage.
Ms Zawaideh was the drummer and only female member of Mr White's band, Bad Things, until she was fired in August 2014.
Two years later, she filed a lawsuit against the Olympian saying he "repeatedly sexually harassed her and forced his authoritarian management style on her for over seven years".
In the lawsuit, Ms Zawaideh claimed Mr White sent her sexually explicit and graphic images and forced her to watch pornographic videos.
The drummer initially sued Mr White for not paying her on time and later filed the sexual harassment claim after she switched lawyers, according to USA Today.
She also reportedly accused him of pressuring her to cut her hair and to wear revealing clothes.
The two reached a settlement in May 2017 and never went to court.
The allegations against Mr White - known as the Flying Tomato because of his red hair - resurfaced ahead of his attendance at the Pyeongchang Winter Games.
'MeToo' and the scale of sexual abuse
After he dismissed the claims as "gossip" on Wednesday, his critics took to social media.
He later apologised in an interview about the "gossip" comment.
"I'm truly sorry that I chose the word 'gossip'," he told NBC News' Today show.
"It was a poor choice of words to describe such a sensitive subject in the world today."
Mr White said he was a "changed person" and had grown over the years.
"I'm proud of who I am today," Mr White said.
Many also criticised the snowboarder for "carelessly" dragging the US flag on the ground after his latest gold medal.
"I remember being handed the flag. I was trying to put my gloves on and hold the flag and the board," Mr White responded, according to CNN.
"Honestly, if there was anything, I definitely didn't mean any disrespect."
"I'm very proud to be part of team USA and be an American," he said.