Rob Porter and Trump: Explaining the story in three simple ways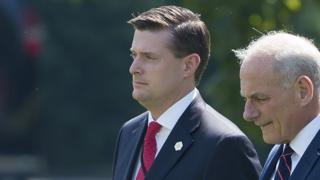 In a presidency where headline-grabbing news stories have the life expectancy of mayflies, the furore surrounding former White House aide Rob Porter has had notable resiliency. What's it all about?
The Daily Mail first printed allegations that the president's staff secretary had a history of spousal abuse on 6 February.
A day later, the Intercept published photographs of Porter's first wife with a black eye, which she said he had given her during their Italian honeymoon in 2005.
From there, other outlets reported that the FBI uncovered details about Porter's history during its background checks and that the aide had been working with a temporary security clearance for the duration of his time in the White House.
By 7 February, the White House announced that Porter would resign once a replacement had been selected. The following day, its press secretary told reporters Porter had permanently left that morning.
For more than a week since then, it has dominated the news in the US, with every development endlessly scrutinised and dissected.
So what are the three key points to remember?
1. Trump's right-hand man is in trouble
What did you know, and when did you know it? The Nixon-era line has become cliche because it always seems to crop up when things get bad.
Those questions apply directly to Chief of Staff John Kelly, who initially defended Porter - calling him "a man of true integrity and honour" - and then explained that he fired him just four hours after receiving the details of the alleged history of abuse.
There's evidence that Mr Kelly knew at least the broad-stroke details of the allegations against Porter as far back as November 2016.
Mr Kelly has made more than his share of enemies within the White House over the last six months, as he limited access to a president who has occasionally been predisposed to distraction. That's rubbed some up the wrong way - and they're taking the opportunity to pile on.
One White House official told the Washington Post that the chief of staff is a "big fat liar" and his handling of the situation a "dereliction of duty".
Already speculation is swirling that Mr Kelly may be on the way out - and that the White House is mulling possible replacements.
Sometimes these rumours end up being true (just ask Sean Spicer and Steve Bannon).
But sometimes they stick it out (Secretary of State Rex Tillerson and Attorney General Jeff Sessions have more political lives than the proverbial cat).
2. Donald Trump's shifting response
So far the president has responded to the scandal involving one of his closest aides in a few off-the-cuff comments and a pointed tweet.
"We certainly wish him well," Mr Trump said last Friday in remarks from the Oval Office. "It's obviously a very tough time for him. He did a very good job while he was in the White House."
He added that "you have to remember" that Porter has said "very strongly" that he is innocent.
The line is reminiscent of the president's defences of other men accused of sexual or physical misconduct - including former Fox News host Bill O'Reilly, Alabama Senate candidate Roy Moore and former Trump campaign manager Corey Lewandowski.
Left out of Mr Trump's statement was any consideration for Porter's ex-wives or victims of domestic violence in general.
It wasn't until Wednesday, eight days after the original allegations surfaced, that the president directly condemned such violence.
"It almost wouldn't even have to be said," he added. But, after more than a week, he had to say it.
As the #MeToo movement has become a national phenomenon, Mr Trump - who has faced allegations of his own sexual misconduct - finds himself in a delicate situation.
He has said those accusing him are lying.
It could explain why he has repeatedly emphasised that those professing their innocence require "due process" and shouldn't be quickly condemned.
3. There's a White House credibility gap
Time and time again over the past week, the White House has advanced a position on the Porter story that it has since had to walk back.
First, they rushed to defend him. Then they said he was quickly dismissed.
They said an FBI background check was ongoing, then acknowledged that it had concluded months ago.
They insisted that the details of the allegations were news to them, then faced news reports that Porter himself - and an ex-girlfriend - had told White House officials about the domestic dispute allegations.
On Tuesday, Mr Kelly insisted "it was all done right" but Vice-President Mike Pence said things "could have handled this better".
Complicating matters is that the administration, as it often does, is leaking like a bullet-riddled submarine.
Since the very beginning, this administration has been beset by factionalism and infighting, as rival groups strive for presidential favour.
While many of the early figures have moved on, the culture of the White House apparently has not changed.