Florida school shooting: A killer comes to 'paradise'
By Owen Amos
BBC News, Parkland, Florida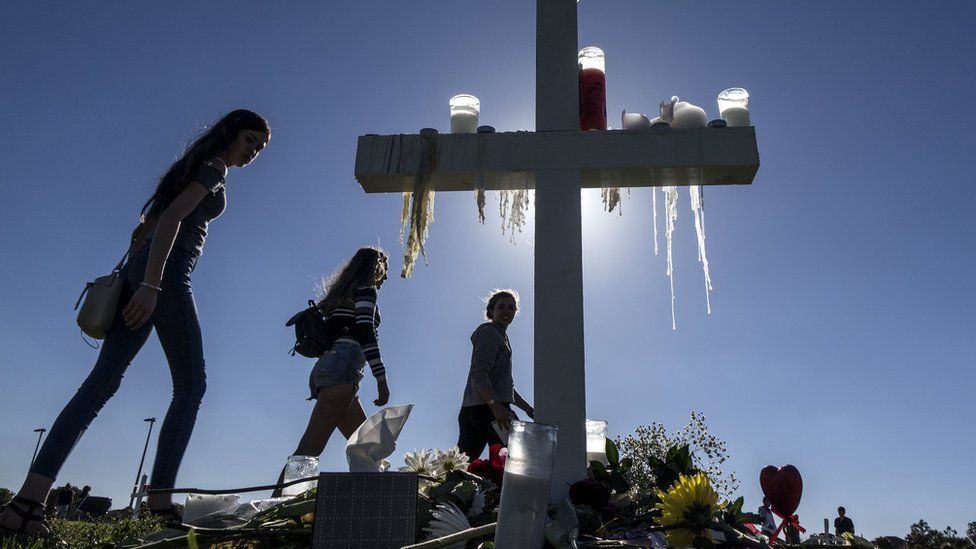 Students re-live Wednesday's shooting in Florida - and demand tougher gun laws from their government.
Where would you expect a school shooting to happen?
Where would you expect 17 people to be shot in the head, in the heart, in the arms and legs, while waiting for home-time?
Not among the palm trees and picket fences. Not among the golf courses, the gated communities, the fortnightly farmers' market.
Lanny James, 77, spends the winter in Margate, 5 miles (8km) from Parkland. He bought his place four years ago, but has been coming to Florida since 1976.
He was playing golf when he heard the news. Four dead when he finished his round; 17 dead when he got home.
"I just love South Florida," he says. "But this is supposed to be paradise. These things aren't supposed to happen."
But they did happen: here, where the sky is blue, the grass is green and it's legal for 18-year-olds to buy semi-automatic rifles.
At 14:06 local time (19:06 GMT) on Wednesday, Nikolas Cruz got into an Uber. At 14:19, he got out at Stoneman Douglas, the school that expelled him last year.
Cruz, 19, walked into the school and took out his rifle, which he bought 12 months earlier. At 14:21, he started shooting. Two minutes later, the fire alarm went off.
Darryl Verna, 17, knew the alarm wasn't a drill. They had a drill that morning, and they never happen twice a day. But he didn't think it was serious.
"I thought it was a prank at first," he says. So, like he did that morning, he went outside, by the gates, and waited for the alarm to stop.
Darryl's friend, Kaleb Martinez, 16, was also outside. Like Darryl, he wasn't worried. Then he looked to his right.
"I see 10 to 12 cop cars just flying down Holmberg [Road]," he says. "Cop cars don't fly like that unless something's happening."
As the cops flew towards the school, the teachers came flying out.
"Staff, coaches, they were shouting 'Everybody back inside, everybody back inside,'" says Kaleb. "I looked at Darryl and thought 'This is serious.'"
Minutes after walking out, the students ran back into school. Some were screaming. Darryl, Kaleb, and around 50 others went into the band room.
A teacher told them to get behind a chair and keep their heads down. Kaleb asked what was happening. The teacher wouldn't say.
"Code Red, lockdown, that's all they said," says Kaleb. "But I got phone calls, text messages. That's when I knew."
By then, police were in the school, looking for Cruz. In the band room, fear rising through their stomachs, the students could hear the search.
"The cops are saying, 'He's in the south end, north end, third floor,'" says Kaleb. "I can hear the kids they were evacuating, and they're screaming."
Cruz entered the school on the ground floor and fired into three classrooms: 1214, 1215 and 1216. He went back to 1216, fired again, back to 1215, fired again, then moved onto 1213.
Cruz went to the first floor, fired into another room, then climbed the stairs to the second floor. It was three minutes after he started shooting. By then, Aaron Feis was dying.
Feis, 37, was a security guard and assistant coach for the school's (American) football team. When he saw Cruz, he shielded the students and took a bullet. He died in hospital.
"He was the nice coach, the one you could always talk to, the one who would always do you favours," says Yohance Williams, the 17-year-old linebacker for the high school football team.
"If you didn't have a parking pass, and you wanted to park in the senior lot, he would let you. He would let it slide."
One of Yohance's classmates was also killed: Meadow Pollack, an 18-year-old called "beautiful inside and out" by her family.
"She was in my law class, first period," says Yohance. "I saw people posting on Snapchat, 'Have you seen this girl? Have you seen this girl?' Then I saw [she had died] this morning."
To lose a classmate and a coach, like Yohance did, should not be normal. Now, at Stoneman Douglas, it is.
After reaching the second floor, Cruz dropped his backpack and his rifle. He ran down the stairs, past the people he killed, then left the building at 14:28 (19:28 GMT).
Students were running west, away from the school. He joined them.
In his maroon Stoneman Douglas shirt, and his rifle left behind, Cruz blended into the crowd. The difference was, they were fleeing. He was escaping.
Trinity Smith, 16, was in the crowd heading west. She was in a hallway when the shooting started; at first, she thought the popping came from culinary class. Then she saw people running.
The teachers tried to lead students to Westglades, the middle school next door. But, to a backdrop of screaming and sirens, people ran for their lives.
"They were jumping fences," says Trinity. "They were running home, right into the intersections [main roads].
"They weren't really listening to the teachers. They were basically in fight or flight mode."
As she ran, Trinity tried to speak to her mum. She didn't have her phone, so she borrowed someone else's. Her mum told her to meet her at Walmart, next to Westglades.
The traffic was heavy, so her mum left her car and walked, scanning the crowd for her daughter.
"I had to find her without a phone," says Trinity. "I had to get through all the people crying and panicking. I was surrounded by people, none that I knew."
Trinity spent 10 or 15 minutes in the crowd, looking at faces, trying to find her mum.
"She was calling out for me," says Trinity. "I was about to pass her, then I heard my name. She saw me and the relief came."
After she met her mum, Trinity's dad picked them up in his car. He didn't want them walking because he heard the gunman had escaped.
He was right. At 14:50 (19:50 GMT), Cruz walked into Walmart - the same Walmart - bought a drink, then headed to McDonald's.
While Cruz was in McDonald's, Darryl and Kaleb were in the band room, heads down, wondering if they would live.
"People kept calling our phones," says Darryl. "We were making sure our relatives knew we were alright. We were lying, of course, but we didn't want anyone outside to panic."
At one point, Darryl sent his mum a text: "I'll be home soon, I love you, don't worry about it."
Eventually - after two hours, says Kaleb - a Swat team burst into the band room. "They checked the room, they were looking at everybody, asking if anyone had injuries," he says.
"They were making sure we could get out. Then we got out."
By then, Cruz had been caught. After leaving McDonald's he walked south; he was arrested 1.5 miles (2.4 km) away, at 15:41 (20:41 GMT), in the next-door town of Coral Springs. A police report records his interview.
"Cruz stated that he was the gunman who entered the school campus armed with an AR-15, and began shooting students that he saw in the hallways and on the school grounds," it says.
"Cruz stated that he brought additional loaded magazines to the school campus, and kept them hidden in a backpack until he got on campus to begin his assault.
"Cruz also admitted that as students began to flee the campus on foot, he decided a plan to discard the AR-15 and vest with the additional magazines so he could blend into the crowd."
Less than 24 hours after Cruz started shooting, a vigil was held at Parkridge Church, a mile from the school.
Sitting outside, hundreds of people prayed, and sang, and cried. Some wore t-shirts saying "faith, family, friends". Yohance Williams' shirt said "faith, family, football" instead.
There were 15 speakers, all from churches. Second-up was Rosalind Osgood, a member of the Broward County School Board, which covers Stoneman Douglas.
"It is time for us to prioritise not only academic achievement, but the emotional and spiritual wellbeing of our children," she told the crowd, looking for solutions. "Our children need you and they need me."
The students at Stoneman Douglas do not disagree. But what they really want, they say, is tougher gun laws.
"Every school shooting that happens," says Darryl, "that's the first thing they say - 'Oh, they have mental issues.'
"It's not mental issues. It's a gun problem. It's a problem of how easy it is to get a gun."
School shootings have become part of American life: 32 dead at Virginia Tech in 2007; 27 dead at Sandy Hook in 2012; 17 dead at Parkland in 2018. The list goes on.
Darryl's sister, Meme, 17, was also in school on Wednesday. They were texting each other, making sure they were okay.
"I understand it's our second amendment right to bear arms," she says. "Okay - bear an arm. But this [a semi-automatic rifle] is something the military has. You shouldn't have these things."
Her friend, Trinity - who found her mum outside Walmart - agrees. "You can protect yourself with a pistol," she says. "You don't need high-powered rifles."
After the vigil, people find their cars, tears rolling down their faces. Yohance stays behind, talking to reporters.
"Things like this shouldn't be allowed to happen," he says. "The guy had an AR-15. He's 19 years old. How does stuff like this happen?
"People should feel safe at school. You shouldn't have to worry if some kid is going to shoot the school up.
"It's nonsense, it's dumb, it shouldn't happen. Not cracking down on it is ridiculous to me."
As he speaks, 17 silver balloons rise into the blue sky. Florida goes on, but Marjory Stoneman Douglas High School - and its 3,000 students - have changed forever.