US Veterans chief Shulkin 'improperly' took Wimbledon tickets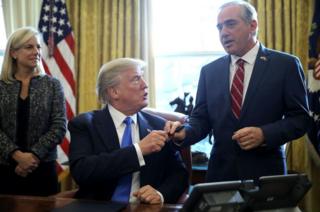 US Veterans Affairs Secretary David Shulkin improperly accepted Wimbledon tennis tickets and used tax dollars to fund a European trip, a report finds.
A report by the agency's inspector general also accused Mr Shulkin's top aide of doctoring an email to justify government-funded travel for his wife.
Mr Shulkin has refuted the charges. One US congressman has called for him to resign over "corruption and abuses".
Five Trump cabinet officials have faced ethics probes related to travel costs.
The Veteran Affairs (VA) administration's internal inspector general, Michael Missal, released a report on Wednesday finding that the secretary had received tickets to the Wimbledon women's final tennis match in July from an organiser for the Invictus Games - a sports tournament for wounded veterans founded by Prince Harry.
VA officials had told ethics advisers that the tickets were a gift of a personal friend, and thus allowed under government rules.
But the inspector found that Victoria Gosling, an adviser to the Invictus Games, could not recall Mr Shulkin's wife's first name when later asked by investigators.
He has also previously told the Washington Post that he had purchased the Wimbledon tickets.
Mr Missal also claims that Mr Shulkin's chief of staff doctored an email from an aide coordinating the trip to make it appear as though Mr Shulkin was receiving an award from the Danish government.
The email was allegedly doctored by Viveca Wright Simpson, the VA's third-most-senior official, in order to justify using taxpayer money to pay for Mr Shulkin's wife, Merle Bari, to travel to Europe for a nine-day trip.
Mrs Shulkin's flight cost $4,300 (£3,100) the report found.
US Congressman Mike Coffman called on Mr Shulkin to resign following the report.
Mr Missal also claims that a top VA aide made "extensive use of official time" to organise leisure activities for the secretary and his wife, and essentially acted as his "personal travel concierge".
"This was time that should have been spent conducting official VA business", the inspector wrote in the 84-page report.
"Although the [inspector general's office] cannot determine the value VA gained from the Secretary and his delegation's three and a half days of meetings in Copenhagen and London at a cost of at least $122,334, the investigation revealed serious derelictions by VA personnel," the watchdog found.
In a response to the report, dated 12 February, Mr Shulkin said the inspector's finding were "overall and entirely inaccurate".
"Your staff's conduct related to this investigation reeks of an agenda," he said.
"Your portrayal of this trip is overall and entirely inaccurate."
He is the latest Trump official to face allegations of improper expenses for their official travel. Others include:
Tom Price resigned as Health and Human Services secretary in September 2017 amid a row over more than $400,000 in tax dollars spent on charter and luxury flights
Interior Secretary Ryan Zinke was criticised by his agency's inspector general for not properly documenting his travel on private planes with his wife
Treasury Secretary Steven Mnuchin faced an investigation after he was accused of spending more than $800,000 in tax dollars on military aircraft for leisure purposes
Environmental Protection Agency (EPA) Administrator Scott Pruitt is currently being probed for his use of private planes and luxury airliners