Canadian broadcaster CTV amends Patrick Brown sex claim story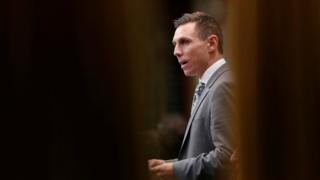 A Canadian news outlet says some of the facts in an expose of sexual misconduct claims against a politician were wrong.
Patrick Brown resigned as leader of the Ontario Progressive Conservative party in January, months before the provincial election.
In its original story, CTV reported that a woman met Mr Brown at a bar a decade ago when she was 17 and under the legal drinking age.
The broadcaster now says she was not under age at the time.
But her allegations remain the same, it added.
The woman told the network that Mr Brown picked her up at a bar more than a decade ago, and brought her back to his house with the promise of booze.
When they were alone, he exposed himself and asked for oral sex, she said.
Mr Brown has denied those allegations and he says he will pursue legal action to defend himself.
Mr Brown called the original report "malicious and false" in a Facebook post on Wednesday.
Mr Brown also alleges that CTV intentionally left information out of its story that would have contradicted the woman's version of events.
Now, CTV says the incident happened a year later.
CTV says it "stands by its reporting", and quoted the woman's lawyer who said it's not unusual for "collateral details" to fade over time.
In a statement on Wednesday, the network said that attacks on its journalistic practices are "groundless and wrong" and that their reporting on the matter will continue "undeterred".