Florida shooting: Fear and panic as school launches 'code red'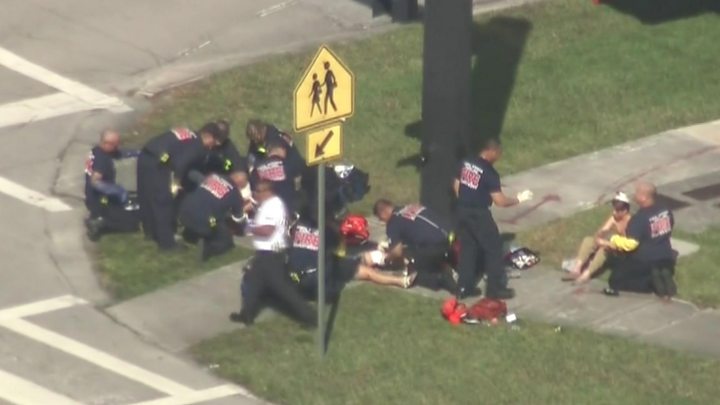 Students and parents have painted a harrowing picture of the attack that unfolded at the Marjory Stoneman Douglas High School in Parkland, Florida, on Wednesday, when a gunman killed 17 people. Their stories are here.
Michael Katz, a student, heard "frantic screaming" and what he thought was a lorry.
"I've never heard such loud screams in my life," he told ABC News.
"Then we realised there was a shooting at my school."
Another student told ABC News: "He was just going from class to class, just shooting at random kids."
Matthew Walker continued: "When the police were escorting me out of the building, there was a dead guy ... on the floor next to me. I'm blessed to be alive."
Student Jeiella Dodoo told CBS News that she and her schoolmates had evacuated their classroom calmly after hearing what they thought had been a routine fire alarm.
In fact, reports suggest this was a deliberate ruse by the gunman.
"The alarm went off so we had to evacuate from our classes," she said.
Then the gunshots started.
"I heard about six gunshots," she said, "and then some people started running and then everyone started running because we were like 'If it's real, then just run.'"
"I heard three gunshots," one student told the Guardian. "And then some more down the corridor. We shut our classroom door and stood to the side of it so we wouldn't be seen. I was terrified."
Kyle Yeoward told Reuters news agency he was upstairs in the bathroom when he heard two shots.
"He let loose on the freshman building," Kyle said, referring to first-year students.
Kyle and 15 other students and teachers hid for two hours in a cupboard before police arrived on the scene.
Jeremiah Baez told reporters: "There were teachers pulling us in and telling us to get in the rooms and be quiet."
Colton Haab, a member of the school's Junior Reserve Officer Training Corps, brought other students with him to a room where they grabbed two lengths of wood, a fire extinguisher and a chair in the hope of defending themselves.
"If he was going to try to come in the room we were going to try to stop him with whatever we had."
'Code red'
Masiel Baluja told CNN she started to hear shots from the floor below her. "That's when me and a group of people ran downstairs, and I could tell [the shooter] was on my left side because that's where I heard the gunshots from, and it was very loud. And then I went to make a right, and I just ran."
The police kept Masiel and her friends down on the ground before they would allow them to run to safety.
"I was with a group of kids. I didn't know if any of them were shooters or not," she said.
"I felt very uncomfortable because anybody could be a shooter."
The high school football coach, Willis May, described how he and six others hid in his office after hearing a 'Code Red' warning over the school intercom.
Mr May told the Sun-Sentinel they had seen the shooter attempt to blend in with other students filing out of the building.
The football coach also described hearing his assistant, Aaron Feis, over the radio before he was killed by the shooter as he defended a student.
The last words he heard Mr Feis say were: "No, that is not firecrackers."
'Still in shock'
Kevin Trejos hid for an hour and a half with fellow students until police came to escort them from the building.
"I'm still in shock", said Kevin. "None of my close friends were killed or injured but some people who I know from some of my classes have been."
"I feel like I have to cry but I haven't been able to."
Teachers and students at the high school had reportedly undergone training for such a shooting only six weeks previously.
TEN Eyewitness News tweeted footage of locked-down classrooms, as the attacker prowled the halls.