Immigration effort to protect Dreamers collapses in US Senate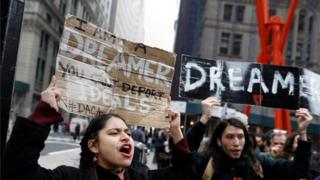 The US Senate has failed to pass any of four proposals on immigration, including protections for young immigrants brought to the US illegally.
Support for the most promising bipartisan bill failed after President Donald Trump called it a "total catastrophe" and threatened to veto it.
The legislative collapse leaves the status of Deferred Action for Childhood Arrivals (Daca) recipients in limbo.
Mr Trump ended Daca and gave Congress until 5 March to find a solution.
Daca recipients, known as so-called Dreamers, had been protected from deportation under the Obama-era programme that President Trump rescinded in September.
He gave Congress a six-month window to find a pathway for citizenship for the 1.8m people affected, while Senate Majority Leader Mitch McConnell imposed a deadline on his chamber to pass an immigration bill by the end of this week.
After the flurry of failed votes, Mr Trump tweeted that Democrats are to be blamed.
"Cannot believe how BADLY DACA recipients have been treated by the Democrats...totally abandoned!
"Republicans are still working hard," Mr Trump wrote on Friday morning.
What are the proposals?
The leading bipartisan bill was brought to the floor by Republican Senator Susan Collins of Maine.
It offered $25bn (£17bn) for border security, including funds for Mr Trump's planned wall along the US-Mexico border, as well as protections for so-called Dreamers.
But the White House railed against the bill, saying it would weaken enforcement of current law and encourage more illegal immigration.
"This amendment would drastically change our national immigration policy for the worse by weakening border security and undercutting existing immigration law," White House spokeswoman Sarah Sanders said in a statement ahead of the vote on Thursday.
US Attorney General Jeff Sessions also spoke out against the bill.
The proposal fell short of the 60 votes needed, with 54 senators for it and 45 others against the measure.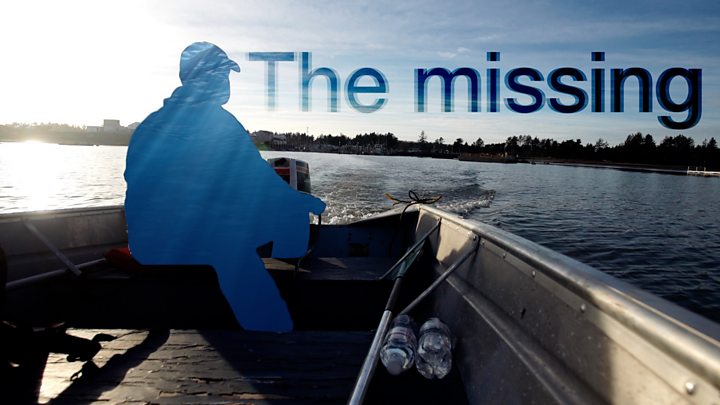 Mr Trump urged senators to support a bill brought to the floor by Republican Senator Chuck Grassley. The Trump-backed measure received the fewest votes, with only 39 members supporting it.
A third measure focusing just on Daca and border security, brought by Republican John McCain and Democrat Chris Coons, fell short 52-47.
A fourth measure focused on punishing so-called sanctuary cities, which refuse to co-operate with federal immigration enforcement efforts, also failed.
---
Blame game begins
Analysis by Anthony Zurcher - BBC Washington
Senate Majority Leader Mitch McConnell promised a flurry of votes on a variety of immigration proposals this week, and that's what happened. For a week the Senate spun its wheels, with numerous impassioned speeches, and then did exactly nothing.
None of the measures introduced - Donald Trump's preferred plan, a bipartisan compromise bill, another bipartisan compromise bill - garnered the 60 votes necessary to break a filibuster. So nothing is what Daca recipients are going to get, at least for now.
The House of Representatives will take up its own version of immigration reform - something very similar to Mr Trump's proposal of Daca protections combined with border security, a wall and sweeping changes to legal immigration - but it will be dead on arrival in the Senate. A version in the lower chamber only got 39 votes.
And so legislation that is supported by a vast majority of Americans will not even sniff the president's desk. Instead, the blame game will begin in earnest, while Daca recipients are left hoping the courts will keep them from being forced back into the legal shadows or deported to nations they barely know.
---
What happens next?
The collapse comes as the US Supreme Court is due to consider one of two federal court rulings blocking the White House from ending Daca as the 5 March deadline looms.
The Trump administration is appealing a ruling by a US judge in San Francisco, who found the government's argument that the Daca programme was illegal was based on a "flawed legal premise".
The judge in January ordered the government to begin processing renewal applications from people who had previously been covered, but not for those who had never before received protection under the scheme.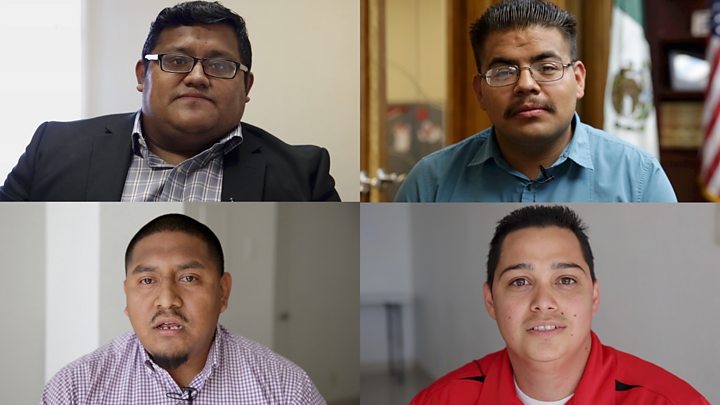 A US judge in New York issued a similar decision earlier this week, ruling the justice department's reasons for revoking the programme were too arbitrary and could not stand.
Despite the Senate's failed effort, lawmakers suggest there could be debate on attaching a short-term extension of protections for Daca recipients in a government funding bill that needs to pass in Congress by 23 March to avoid a shutdown.
"This does not have to be the end of our efforts to resolve these matters," Senator McConnell said.
Republicans Bob Corker and John Cornyn also said after the vote there could be another opportunity to address immigration in the funding bill.