Olympic gold-medallists Tessa Virtue and Scott Moir heat up ice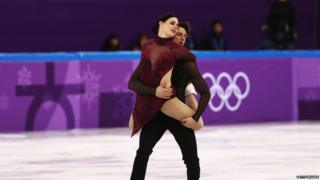 Canadian gold-medallists Tessa Virtue and Scott Moir are melting hearts with their super-sensual ice dancing routines. But much to the internet's dismay, the duo says their relationship is purely professional.
Leave your notions of twee pastel costumes and jazz hands behind - when Canadian ice dancers Tessa Virtue, 28, and Scott Moir, 30, skate, it is sexual chemistry on ice.
A video of their gold-medal winning routine - choreographed to "Roxanne" from Moulin Rouge - has gone viral and inspired some seriously racy fan fiction.
But off the ice, these two say they are just friends.
"It's more about a friendship, our working relationship is so strong. We take so much pride in that," Moir told Maclean's Magazine.
"It comes with the territory and that's part of the storytelling we do on the ice. If that's the by-product of having a great longstanding partnership, then we can deal with it," Virtue added of dealing with their fan's assumptions.
Virtue and Moir have been competing together for 20 years, which means they have had plenty of time to work on their chemistry. Although they are not romantically involved, Moir joked recently that they did used to date - when he was 10 and Virtue was eight.
"It was romantic in the beginning," Moir joked in an interview with the Globe and Mail.
They are amongst the most recognisable faces of Team Canada, and were co-flagbearers for Canada at Pyeongchang's Opening Ceremony.
The two shot to national stardom in the 2010 Vancouver Olympics by becoming the first North American ice dancing couple to win gold.
During the 2014 Sochi Olympics, they took home a silver for both ice dance and the team event.
More like this:
Now, in what they say may be their last Olympics, they will try and take back that gold.
They are already on their way. Their Moulin Rouge routine took the top spot in the ice dancing segment of last week's team figure skating event, which helped Canada clinch the gold.
And their short programme broke the record for the highest score with 83.67 points.
But their real test will come on Tuesday morning (Canadian time) when the pair will take to the ice again to compete in the free skate for gold.
Their legions of "shippers" cannot wait to see what they have in store.