Florida shooting: Should US gun raffles be cancelled?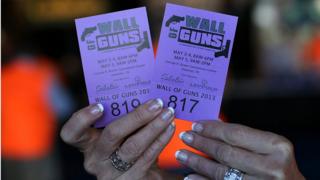 Organisers of gun giveaway competitions in the US have come under pressure following the Florida school shooting that killed 17 on Wednesday.
Republican politicians in Maryland and Kansas went ahead with their gun giveaways, while a county sheriff in North Carolina cancelled his raffle.
A children's baseball team defended its decision to continue with a fundraising effort, in which the winner will receive an AR-15 assault rifle.
That type of gun was used in Florida.
Gun sweepstakes - costing as little as $5 (£3.50) per ticket - are a part of life in some parts of the US, with the National Rifle Association having held raffles for decades.
Organisers have hit back at the online criticism, saying their fundraising events were planned months ago.
An ardent supporter of the second amendment - giving Americans the right to bear arms - Sheriff's Deputy Aaron Penman in Maryland went ahead with his "gun/cash bingo" event on Saturday.
Protestors held a vigil outside the Jarrettsville venue, reading the names and sharing stories of mass shooting victims, according to the Baltimore Sun.
One of the prizes was an AR-15 semi-automatic rifle, dubbed 'America's most popular rifle' by the NRA.
It was this type of weapon which was used just days before at the high school in Parkland, Florida, where students and staff lost their lives.
Mr Penman, who is running for a seat in the Maryland House of Delegates, told Fox News that his event "was months in the planning" and his event's Facebook post said the winner would have to pass a background check.
Despite mounting criticism, a Missouri baseball team for children aged nine or younger is also selling raffle tickets for an AR-15, which was donated by a parent.
Coach Levi Patterson told the Kansas City Star he planned to continue with the fundraising activity, saying no child would be forced to sell tickets if they did not want to.
He noted a spike in donations in the wake of the Florida shooting, but online backlash has been fierce.
"Are you all tone deaf?" wrote one person on Mr Patterson's page. "AR-15 kills 17 so you raffle a gun for child sports? Lord, people wake the hell up. Justify all you want but you are wrong, period."
The baseball coach responded on the now private post: "Gun raffles have been going on for years. Evil has and will always exist."
"Our hearts break for those involved, and we do not take that lightly," he added.
A private school in Pensacola, Florida, 640 miles from the latest mass shooting, is also giving away two rifles as part of a golf-putting competition.
A Republican running for congress in Kansas has refused to stop his AR-15 free-entry raffle in the wake of rising scrutiny.
Tyler Tannahill, a former Marine and second amendment supporter, excitedly posted on his social media the day before the Florida shooting about his rifle giveaway.
"No individual is for school shootings," Mr Tannahill told the Kansas City Star afterwards. "We're not trying to raise money off the school shooting."
His raffle, which requires the winner to be over 18 and legally eligible to own a firearm, currently has 4,500 entries - and negative reactions online, calling it "tone deaf" and "ridiculous".
However, not every firearm sweepstake has gone ahead since the school shooting on Valentine's Day. A county sheriff in North Carolina cancelled a gun raffle intended to fundraise for his re-election campaign.
Sheriff Irwin Carmichael tweeted about his event in November, picturing 15 handguns and long guns including assault-style rifles.
On Thursday, social media posts about the event were deleted and the sheriff said in a statement that in the wake of the recent tragedy "holding a gun raffle would not serve to advance the values close to my heart".
Mr Carmichael had previously told a local television station that such raffles were effective fundraisers.
A high school football team in Michigan also cancelled its fundraising raffle, which featured an AR-15, after the community complained, the Detroit Free Press reported.
An online statement for the football team said, "At no point did the Booster club intend to offend those sensitive to the topic of firearms."