Stanley Majors: Life sentence for Oklahoma man who murdered neighbour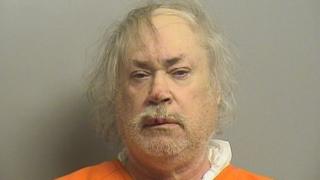 A man who was convicted of killing his neighbour after months of harassing his Arab-American family has been sentenced to life in prison for the hate crime.
Stanley Majors was sentenced on Tuesday by a judge in Oklahoma for killing 37-year-old Khalid Jabara, whose family came to the US from Lebanon.
Prosecutors say Majors stood at the front steps of the family's home and fatally shot Mr Jabara in August 2016.
Family members say police failed to protect them despite many complaints.
Prosecutors had requested during the trial that the judge show Majors no mercy in sentencing, saying he had not shown remorse for his crime.
The Jabara family did not attend the sentencing hearing in Tulsa but said in a written statement that the killer's "time to turn his life around" had "come and gone".
Majors had earlier been found guilty of committing a hit-and-run driving attack on Khalid Jabara's mother in 2015, leaving her with a broken nose and shoulder.
After serving a jail sentence for that attack, he was released and continued to harass the family, police say.
The family successfully received a protective restraining order and complained to police several times when he violated that order.
They say that racist taunts and hate-filled rants continued to come from their next-door neighbour.
His defence team had argued that he was mentally ill at the time of the shooting, and felt targeted by the Jabara family because he was gay.
In addition to the sentence of life without the possibility of parole, he was also sentenced for violating Oklahoma's hate crime law.