Police use DNA to sketch image of abandoned baby's mother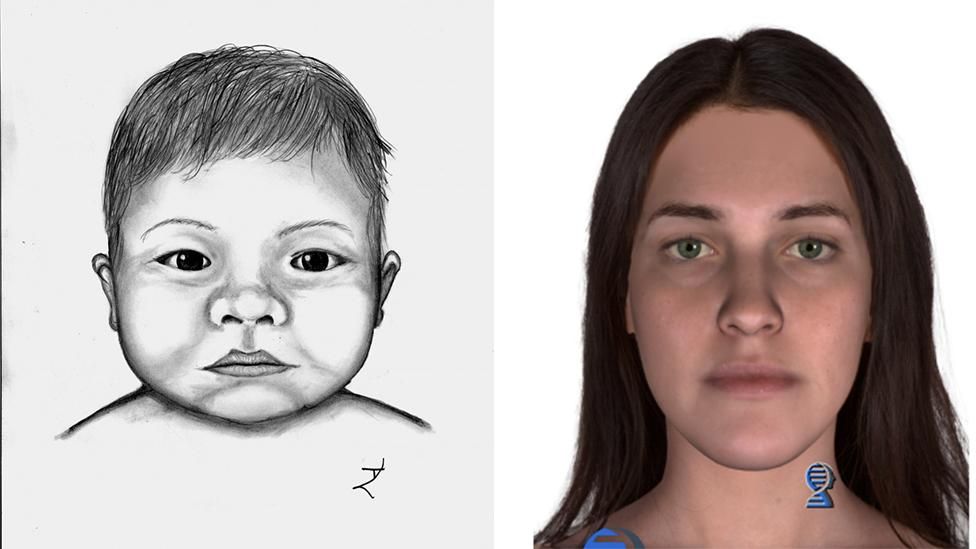 Canadian police are using DNA to sketch the possible likeness of the mother of a baby found dead in a dumpster.
Calgary police do not know if the newborn baby girl was put into the dumpster before or after she died and say they have run out of leads.
They hired a Virginia-based company to create a sketch of the potential mother based on DNA from the baby.
But scientists caution that DNA "phenotyping" is not accurate enough to predict what someone will look like.
Police say they need to find the mother in order to determine why the baby was abandoned on Christmas Eve and who is responsible.
"We don't know the mother's welfare right now. That's really important," said Staff Sgt Martin Schiavetta during a press conference.
The company provided a sketch of the potential suspect based on DNA found at the scene, along with some general traits: she is probably of both Northern European and indigenous ancestry, with hazel or green eyes, fair skin and dark brown or black hair.
This is not the first time police have used DNA phenotyping - or the practice of using genetic traits to predict facial features in law enforcement - to try to find a potential suspect. In 2016, police in Orlando, Florida, released a sketch of a murder suspect based on DNA phenotyping from a suspect in a 2001 cold case.
The science behind the technology is still a long way away, scientists say.
Benedikt Hallgrimsson, the head of cell biology and anatomy at the University of Calgary who is researching the development of faces, says there is a real limit to what genetics can predict.
"In terms of predicting what a person looks like, I do not think that actually exists as a viable technology," he told the BBC.
While it is fairly easy to tell someone's hair colour, eye colour and ethnic background from their DNA, he says facial shape like the size and shape of a person's cheekbones, nose, hairline or jaw-line are much more complex.
Environmental factors like a person's age, if they smoke and their general health can also make a big impact on the overall appearance of someone's face.
Mr Hallgrimsson cautioned the sketch could lead police to rule out valid suspects, or implicate the wrong person.
"That picture is very specific," he warned. "There could be a person out there who looks like that image, but who is unrelated to the case."