Outrage after US lawmaker links mass shooters to Democrats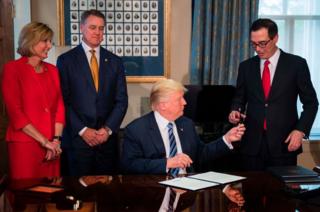 A Republican US lawmaker from New York is facing political backlash after she claimed in a radio interview that many mass shooters tend to be Democrats.
Democrats immediately condemned Claudia Tenney's remarks, which came a week after a school shooting left 17 people dead in Florida.
She had been responding to a question about crime in the inner cities.
A spokesman for the Democrats called her an "embarrassment" and her comments "unhinged, shameful and disgusting".
Ms Tenney said in a statement on Wednesday night that she was "fed up with the media and liberals attempting to politicise tragedies and demonise law-abiding gun owners and conservative Americans every time there is a horrible tragedy".
"While we know the perpetrators of these atrocities have a wide variety of political views, my comments are in response to a question about the failure to prosecute illegal gun crime," she added.
"I will continue to stand up for law-abiding citizens who are smeared by anti-gun liberal elitists."
In her interview with Albany radio station WGDJ, Ms Tenney said that she feared that "legal gun owners are going to be targeted" by new gun laws being proposed.
"It's interesting that so many of these people that commit the mass murders end up being Democrats," Ms Tenney said.
The interviewer claimed that most gun crimes occur "in what's euphemistically called the inner cities involving minorities, and they're the ones that Democrats generally are going to bend over backwards to protect".
"Obviously there's a lot of politics in it," Ms Tenney said in response.
She added that gun owners "have the least amount of crimes than virtually any other demographic".
Her presumptive challenger in the mid-term election, Anthony Brindisi, said in a Twitter post that her "toxic rhetoric" was "a new low".
Evan Lukaske, a spokesman for the Democratic Congressional Campaign Committee, said the comment was "unhinged" adding that she "has demonstrated how completely unfit she is to serve in Congress".
"She is an embarrassment to New York and our country," said Mr Lukaske, who called upon voters in Oneida County, New York to unseat her in November.
Democrat Gerry Connolly of Virginia said Ms Tenney "owes America a sincere and abject apology".
Her remark comes one week after an ex-student allegedly opened fire on his former high school in Parkland, Florida, triggering a renewed political discussion about guns.
The suspect, Nikolas Cruz, once posed for a social media photo with a Make America Great Again hat, which are worn by supporters of US President Donald Trump.
According to the Washington Post, it is unclear if there is any database that lists the political affiliations of mass killers.
Ms Tenney, a former state legislator, was elected to Congress in 2016 and is facing a hotly contested re-election race.