Canada's Winter Olympics losing streak on ice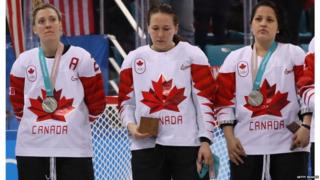 Canadians are known for their prowess on the ice, but this Olympics they've suffered a series of bitter losses.
With no NHL players on their team, Canada's men's ice hockey team lost to underdog Germany - a humbling defeat for the reigning champions.
The women's hockey team lost to their arch-rivals the US in a shoot-out, and for the first time ever, Canada did not win a medal in men's curling.
The news has left many Canadians feeling rather dyspeptic, taking the gloss off an otherwise stellar performance in Pyeonchang.
'Sore losers'?
Perhaps no defeat was more crushing than Thursday's 3-2 loss against the Americans in women's ice hockey. The two countries are bitter rivals - Canada won gold at the previous four Olympics, including victories over USA in the 2002, 2010 and 2014 finals.
The winning point was scored by Monique Lamoureux-Morando in a sudden-death shootout.
When it came time for the podium, Canadian defenceman Jocelyne Larocque was so upset she refused to don the silver medal.
Fan reaction was mixed. Many sympathised with her sentiment, including US coach Robb Stauber.
"I understand it... it's a very heated rivalry," he said.
But others accused her of being a poor sport.
She issued an apology on Friday after receiving a stern scolding from the International Ice Hockey Federation.
"Please understand this was a moment in time that I truly wish I could take back," Ms Larocque said.
"I take seriously being a role model to young girls and representing our country. My actions did not demonstrate the values our team, myself and my family live and for that I am truly sorry."
Gunning for third-place
In another defeat, Canada's men's hockey team lost to Germany in the semi-finals. It is a truly stunning fall from grace, considering Canada won gold in three of the last four Olympics, including in 2014 at Sochi.
Germany, on the other hand, has not even made the podium since 1976, when the team won bronze. It would be like if the New England Patriots lost to the Cleveland Browns, or if England lost to the Americans at the World Cup (cough, 1950, cough).
Obviously, the Germans are elated.
In Canada, the mood was more angry than disappointed - Canadians blamed National Hockey League commissioner Gary Bettman for refusing to let NHL players compete in this year's Olympics. That's meant that Canada's best players have had to watch from the sidelines.
Now, the team will be lucky to settle for bronze, if it can defeat the Czech Republic on Saturday.
A history-making loss
For the first time, ever, Canada will not stand on the podium to receive a medal in men's curling.
While the sport is often looked on as a quaint oddity in other parts of the world, it is a pastime in many parts of Canada and the country typically excels in it internationally. Canada has won three gold medals and two silvers since 1998, when curling became an Olympic event.
But on Friday, Canada lost 7-5 to Switzerland in the bronze-medal match.
At home, the loss is being spun as proof that Canada has helped raise the international profile of the sport.
"Curlers in Canada wanted the world to embrace the game and wanted to help other countries get better. They've helped train curlers from other countries, welcomed them into their abundant facilities, welcomed them into their cash tournaments, and taken jobs as their coaches," wrote journalist Ted Wyman for the National Post.
"The result is curling teams around the world are better than they were four years ago, and that might help explain why Canada - a double gold medal winner at Sochi 2014 - finished off the podium for the first time ever in both men's and women's curling at the Olympics."
There was some consolation for Canada with a curling gold in the mixed doubles for John Morris and Kaitlyn Lawes.
Canada has won 27 medals total so far - beating its previous national best of 26 set in 2010 in Vancouver - putting it in second place for total medals won, behind Norway.
It is in third place for total gold medals, with 10, behind Norway and Germany.