White House barrier hit by vehicle, Secret Service says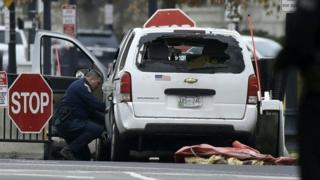 A vehicle has struck a barrier outside the White House and a woman has been detained, the Secret Service says.
"An individual driving a passenger vehicle struck a security barrier near the White House at 17th & E," it said.
No officials were injured and US Secret Service officers arrested 35-year-old Jessica Ford of La Vergne, Tennessee, US media report.
Mental health issues reportedly may have played a factor in the incident.
Ms Ford was arrested while attempting to climb the White House fence in spring last year, according to the Washington Post.
She was arrested again in July last year when she violated a stay-away order at the White House, reports NBC.
In Friday's incident, the vehicle did not breach the security barrier of the White House.
No shots were fired, the Secret Service says. President Trump was inside the White House at the time meeting Australian Prime Minister Malcolm Turnbull.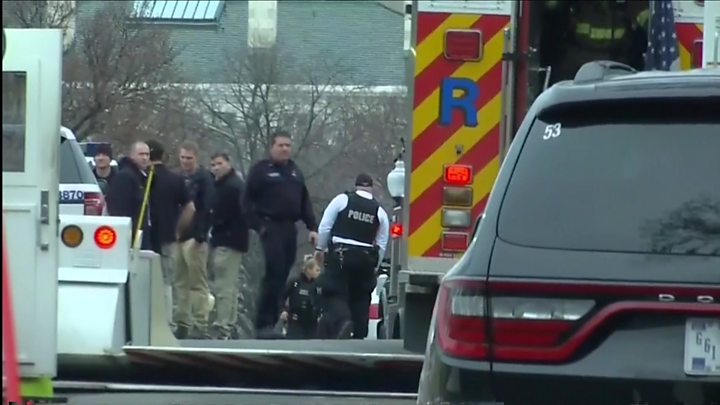 Eyewitness Chris Bello, 50, of New York, told reporters near the scene: "This minivan came and crashed into the barricade and tried to push through the barricade and his tires were burning rubber and a lot of smoke was coming up."
Images of the small white Chevrolet van showed that the back windscreen and a side window had been shattered.
The vehicle has a number plate registered in Rutherford County in Tennessee, part of metropolitan Nashville.
The van had an American flag emblem on the back, according to Reuters news agency.
A witness reported seeing officers pull a woman out of the vehicle's window at gunpoint, according to a journalist from a local Fox channel affiliate.
According to reporters locked in the press room, Secret Services officers were seen running toward the residence at about 15:00 (20:00 GMT).
The White House was placed on lock down and security officials were on high alert, reporters said.
The incident took place near a security post on a road leading up to the South Lawn of the White House.
There have been a number of security incidents at the White House in recent years:
March 2017: A man armed with pepper spray spent more than 16 minutes inside the White House grounds after jumping the fence. Mr Trump was not at home at the time
September 2014: A US military veteran armed with a knife entered the White House East Room after jumping the fence, leading to the resignation of then-Secret Service director Julia Pierson
October 2013: A female dental hygienist from Connecticut made a U-turn after trying to enter a White House checkpoint. After a high-speed chase, she was shot dead by officers near the US Capitol. Her 13-month-old daughter was found uninjured strapped in the back car seat