Facebook Live murder: North Carolina man arrested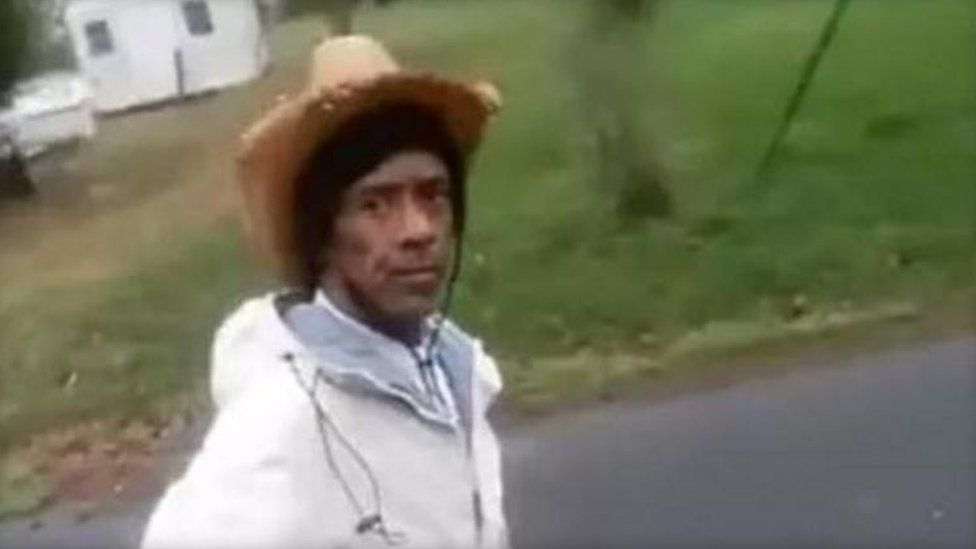 Police in North Carolina say a man was fatally shot as he was broadcasting himself on Facebook Live.
Prentis Robinson, 55, had just left a police station where he had reported one of his phones as stolen, and was filming himself with a selfie stick.
A man is then seen in the short video exchanging words with the victim. "You're on live," Mr Robinson tells him before four gunshots are fired.
A man, named by police as Douglas Colson, has been arrested.
The gunman, who police say was armed with a long-barrelled gun, is seen quickly walking over the camera as he flees the scene.
The Wingate Police Department said Mr Colson was questioned on Monday but was not arrested at the time.
On Tuesday morning he turned himself in to police after they issued a warrant for his arrest.
The shooting, which occurred at about 10:00 local time (15:00GMT) on Monday, triggered a lockdown of nearby Wingate University, about 30 miles (48km) south-east of Charlotte, North Carolina.
Update on lockdown:
Wingate Police report suspect armed with a long gun. Police description: black male, blue and black windbreaker, brown Timberland boots. Law enforcement is posted on campus. Suspect last seen on Jerome Street, south of US 74 across from campus entrance.

— Wingate University (@WingateUniv) February 26, 2018
Police say Mr Robinson would often go on Facebook Live to expose problems in the neighbourhood.
He was seen in a video on Monday morning complaining that a family member had stolen one of his mobile phones.
"I'd just spoke to him, it was, I just...it's hard to say anything about that. I just got through talking to him," Mr Gay said.
On Mr Robinson's Facebook page, he identifies himself as a musician from Atlanta.
According to the Charlotte Observer, he spent much of his adult life in Wingate, and had graduated from the local high school.
A Facebook spokesperson told CBS News that the company removed the original video.
"Because we cannot have known that the victim would have wanted this horrific act to be live streamed on social media, we have removed the original video," the spokesperson said.