Melania Trump mocked for 'positive social media' speech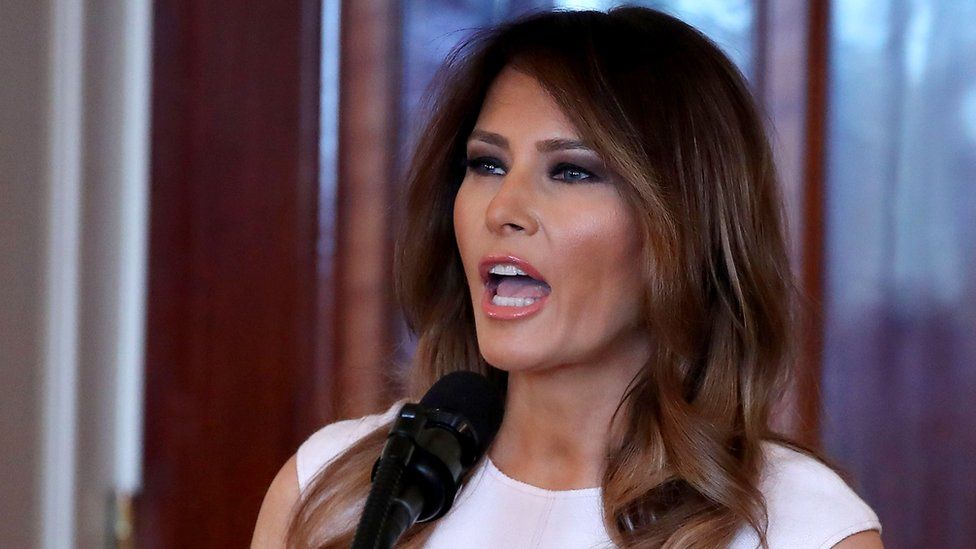 US First Lady Melania Trump has called for adults to "take the lead" to encourage children to develop "positive habits with social media and technology".
Delivering a speech about the challenges faced by children, Mrs Trump called on adults to promote values of "encouragement, kindness, compassion, and respect" online.
However, many took to social media to question the extent to which her husband, President Donald Trump, adheres to these principles in his own interactions online.
Melania Trump just told a group of governors, "we must encourage positive social media habits. Well, that's ironic."

— A.J. Ali (@aj_ali) February 26, 2018
People commented that Mrs Trump should aim to reform the president's social media behaviour before focusing her efforts on American children.
Melania Trump is calling for parent's to limit KIDS on their social media. She should Start with Donald Trump

— Nicolette Dalton (@NicoletteDalto4) February 26, 2018
@FLOTUS - Please Take a lead & help your husband & stepsons in develop positive social media habits FIRST, then talk to us.

— r (@rochelleaz) February 26, 2018
While the vast majority of reaction was mocking, some people received Mrs Trump's words more warmly.
Melania Trump on teaching our youth good social media habits-Finally someone from the Trump admin. speaks out about this-good social media habits need to practiced among all age groups not just our youth @FLOTUS https://t.co/bRyID2Xedq via @YouTube

— Steff La Rosa (@Sevengie) February 26, 2018
Hey @FLOTUS you say that your mission as First Lady is to stop cyber bullying, well then, don't you think it would have been smart to have a convo with your step-son @DonaldJTrumpJr before he liked a post about a false conspiracy theory which in turn put a target on my back

— Lauren Hogg (@lauren_hoggs) February 23, 2018
While much of the reaction to Mrs Trump's speech focused on the Twitter habits of her family, the first lady has also previously been criticised for her social media usage.
By George Pierpoint, UGC and Social News