Jared Kushner loses access to top-level security briefings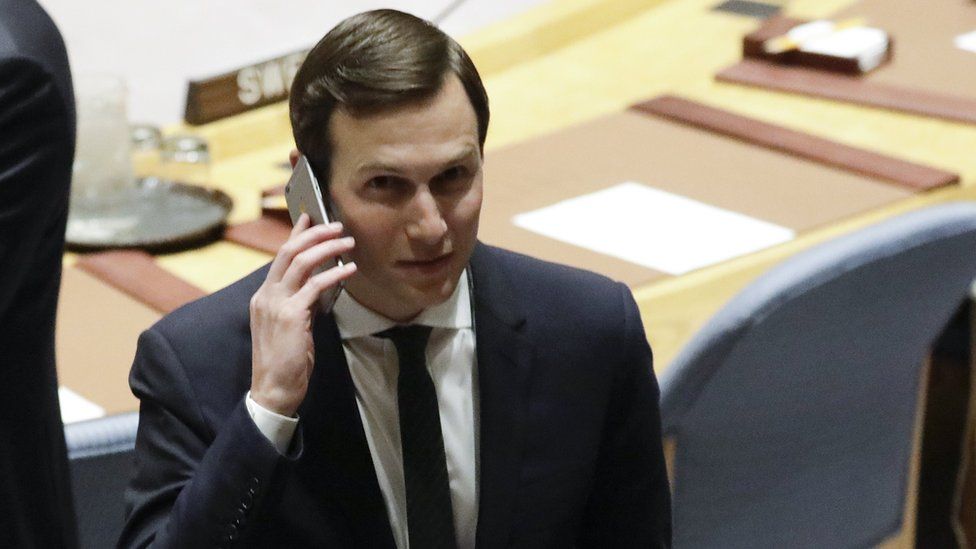 President Donald Trump's son-in-law Jared Kushner has had his White House security clearance downgraded, US media are reporting.
Mr Kushner, a senior adviser to the president, had been receiving top-level security briefings.
However, background checks into Mr Kushner had still not been completed, so he had interim clearance only.
He and other White House aides who have yet to receive permanent clearance will not now get top-level briefings.
Mr Kushner, who is married to Mr Trump's daughter Ivanka, had access to the President's Daily Brief, a secret intelligence report.
The moves were confirmed by Mr Kushner's lawyer to Politico, and by two unnamed officials to the Reuters news agency.
Politico reported that the 37-year-old was informed of the decision on Friday.
A spokesperson for Mr Kushner told the BBC in a statement: "Those involved in the process again have confirmed that there are dozens of people at Mr Kushner's level whose process is delayed, that it is not uncommon for these clearance reviews to take this long in a new administration, and that the current backlogs are now being addressed."
It comes as the White House moves to impose greater discipline on access to secrets.
General John Kelly, Mr Trump's chief of staff, said earlier this month that he would be limiting the number of people with top-level security clearance. It emerged that the president's former staff secretary, Rob Porter, had been able to work with interim security clearance despite allegations of domestic abuse.
The news of the change in Mr Kushner's status followed the announcement hours earlier that his spokesman Josh Raffel was to leave the White House.
Meanwhile, the Washington Post reported that Mr Kushner's contacts with certain foreign government officials have raised concerns with the White House.
The newspaper, citing current and former US officials familiar with intelligence reports on the matter, reported that officials in the United Arab Emirates, China, Israel and Mexico have privately discussed ways in which they could take advantage of Mr Kushner and his business arrangements.
Mr Kushner was given a wide brief in his role as a White House adviser despite a lack of political experience.
He was tasked with brokering a Middle East peace deal and liaising with Mexico.
But he had faced problems with his background checks as he sought to obtain permanent security clearance.
The wealthy New York real estate developer had to refile the national security questionnaire required of all prospective White House employees after making a number of omissions.
Last October, the head of the National Background Investigations Bureau told Congress he has "never seen that level of mistakes" on any security clearance application.
Anthony Zurcher, BBC News, Washington
The administration may insist that Mr Kushner can continue to work on his sweeping portfolio of duties unhindered. His lawyer, Abbe Lowell, may say that this is a normal process and there are no concerns. The reality, however, is that this is an embarrassing development for the presidential son-in-law. He no longer has access to the presidential daily briefing. And, when dealing with foreign officials, he won't have the most sensitive information about their interests and actions.
The problem for the White House could extend beyond just Mr Kushner, however. According to an NBC News report, as of November more than 130 administration employees were working under temporary security clearances, including Ivanka Trump and White House counsel Don McGahn.
Mr Kushner may be the first, and one of the most influential, individuals to be revealed to have had a security downgrade - but he may not be the last.
And last week, it was reported that a senior Justice Department official had told the White House that their investigations would further delay Mr Kushner's security clearance.
The information was reportedly passed on to the White House by Rod Rosenstein, the deputy attorney general who is overseeing the special counsel investigating possible links between the Trump campaign and Russia.
Two weeks ago, US Director of National Intelligence Dan Coats said that presidential aides with interim security clearances should have only "limited" access to secret information.