Canada oil refinery workers split $60m lottery payday 31 ways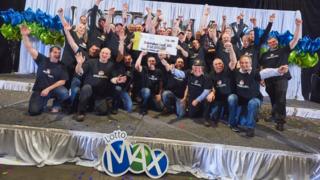 Thirty-one Canadian oil refinery workers are splitting a C$60m ($47m; £34m) lottery jackpot.
The name of the town where the 31 workers from the province of Newfoundland are employed? Come By Chance.
The lottery ticket won the workers one of the largest jackpots in Canadian history.
It is the largest prize ever awarded in Atlantic Canada, and each winner will get about $1.9m.
Five of the workers say they are taking the opportunity to retire. The rest - all members of the same union - are staying on at the refinery.
Sherry Moore Hickey, who bought the winning ticket for the group, said "it was hard to believe it was happening" when she learned of their luck.
She called all the workers individually to inform them of the news.
"I told them all the same story, 'We're millionaires.' I sent out a text: 'This is not a joke. We are millionaires. Check the tickets,'" she said, according to CTV News.
"I was told by 30 men in one day that they all love me, so how many women have that happen to them?"
Her husband, who also pitched in to buy the ticket, is also getting a share of the jackpot.
Eight of the winners live in the small community of Avondale, population 600, and three live on the same street.