Canadian air force raft crashes through Miami woman's roof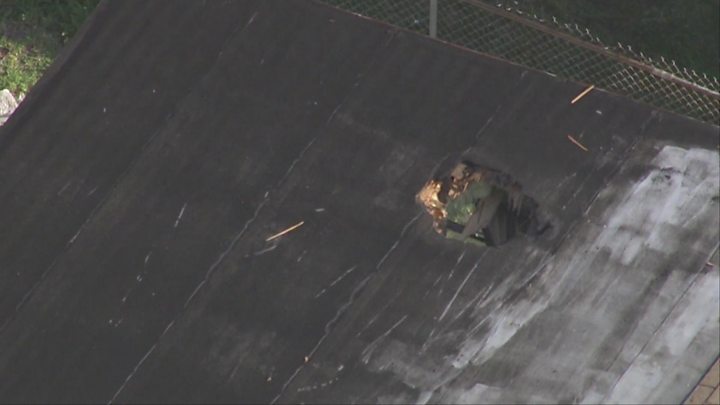 A Miami woman was left covered in dust and debris after a Canadian air force helicopter dropped an inflatable raft through the roof of her home.
Luce Rameau told the Miami Herald that she was in bed talking on the phone on Wednesday afternoon when she thought she heard a bomb go off.
The next instant she was covered in debris from a hole in her roof created by the uninflated six-man raft.
It had fallen from a Royal Canadian Air Force search-and-rescue helicopter.
The RCAF CH-146 Griffon helicopter was returning to US Coast Guard Air Station Miami in Opa Locka, Florida.
Canada's air force is on a training exercise in the southern US state to practise carrying out rescue missions over water.
The 2ft (61cm) long raft weighed about 80lb (36kg) and fell into her bedroom.
"The occupant narrowly escaped disaster and sustained only minor injuries," a representative from the Miami-Dade Fire and Rescue Department told journalists.
"I kept screaming: 'What happened? What happened?'" Ms Rameau told the newspaper. "I was shocked."
Air force spokeswoman Jessica Lamirande told the BBC that it intended to assist "the affected resident with immediate accommodations and other support".
"It is unclear exactly how or why this happened but the matter is now under investigation," she said.
News footage from outside the house showed Canadian military members leaving the home with the raft that crashed through the roof.