US housing boss cancels order for $31,000 dining room set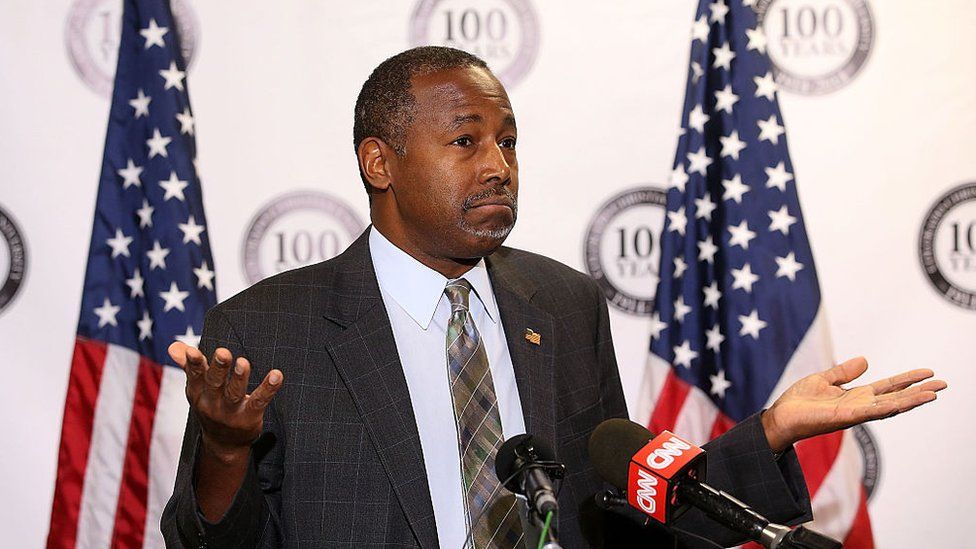 US Housing Secretary Ben Carson has cancelled an order for an office dining room set that cost about $31,000 (£23,000), US media report.
A spokesman for the Department of House and Urban Development (HUD) said it was working to "rescind the order".
HUD officials say the expensive purchase was made without Secretary Carson's knowledge.
The move came a day after a congressional oversight panel opened an inquiry into his agency's renovation.
HUD spokesman Raffi Williams said on Thursday that "the agency is working to rescind the order for the dining room set" at Mr Carson's request.
"I was as surprised as anyone to find out that a $31,000 dining set had been ordered", Mr Carson said in a statement.
The former Republican presidential candidate was reportedly only aware of the purchase of blinds for his office, which cost less than $5,000, according to the agency.
He tweeted on Wednesday that "there has been no dishonesty or wrongdoing by us".
Thank you to so many who have expressed concern for me and my family over the latest accusations. Rest assured that there has been no dishonesty or wrongdoing by us. All the numbers and evidence are being gathered and a full disclosure is forthcoming. 1/2

— Ben & Candy Carson (@RealBenCarson) March 1, 2018
The furniture order was cancelled after the head of the US House of Representatives Oversight Committee, Republican Trey Gowdy, sent a letter to Mr Carson's office asking it to produce documents related to the purchase to deterimine "whether HUD adhered to the applicable spending limitations".
The revelations about HUD's renovations came to light after a former employee filed a complaint alleging she was demoted for refusing to approve furnishings to redecorate Mr Carson's office.
Helen Foster, who worked as the agency's chief administrative officer during the Trump administration transition, filed a complaint in November to the Office of Special Counsel that she was told to approve funds for the renovations even though they exceeded the $5,000 limit for decorating expenses.
The agency has said it did not spend more than the legal limit for the renovations.
White House Press Secretary Sarah Sanders confirmed the department would not go forward with the purchase in a news briefing on Thursday.
She added the agency was looking for "another option that is much more responsible with tax payers' dollars".
She dismissed reports that President Donald Trump was looking to fire Mr Carson or other members of his cabinet involved in recent spending scandals.
"If you're asking if he's getting rid of anyone on the cabinet, I'm not aware that's taking place", said Ms Sanders.
Five other Trump cabinet officials have faced ethics probes related to travel costs while conducting official business for the White House. Others include:
US Veterans Affairs Secretary David Shulkin earlier this month said he would reimburse the treasury department after an internal watchdog found he used tax dollars to fund a European trip
Tom Price resigned as Health and Human Services secretary in September 2017 amid a row over more than $400,000 in tax dollars spent on charter and luxury flights
Interior Secretary Ryan Zinke was criticised by his agency's inspector general for not properly documenting his travel on private planes with his wife
Treasury Secretary Steven Mnuchin faced an investigation after he was accused of spending more than $800,000 in tax dollars on military aircraft for leisure purposes
Environmental Protection Agency (EPA) Administrator Scott Pruitt is currently being probed for his use of private planes and luxury airliners