Florida school shooting: US investment giant pressures gun firms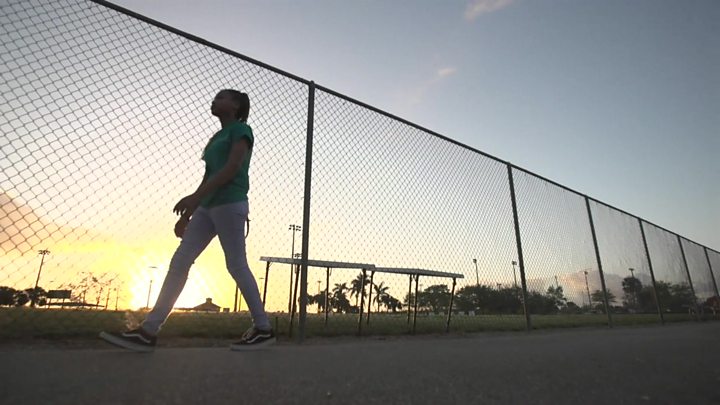 The world's biggest investment management firm is stepping up pressure on companies that make and sell guns after the Florida school shooting.
BlackRock Inc is considering offering investors the chance not to invest in gun firms, and is asking those firms how they monitor safe use of weapons.
The US corporation said the Florida shooting on 14 February, in which 17 people died, required a response.
It is the largest shareholder in two of the biggest US gun manufacturers.
"As it has for many people, the recent tragedy in Florida has driven home for BlackRock the terrible toll from gun violence in America," the corporation said on its website.
"We believe that this event requires response and action from a wide range of entities across both the public and private sectors."
What is BlackRock Inc?
It is the world's largest fund manager.
BlackRock manages more than £4 trillion ($5 trillion) worth of investments and pension funds worldwide and is often consulted by governments.
The company is the largest shareholder in leading gun makers Sturm, Ruger & Co and American Outdoor Brands (formerly Smith & Wesson).
BlackRock is also a large shareholder in firms such as Walmart and Dick's Sporting Goods which sell guns.
But these shares represent a tiny fraction of its total assets.
Is the gun lobby under pressure?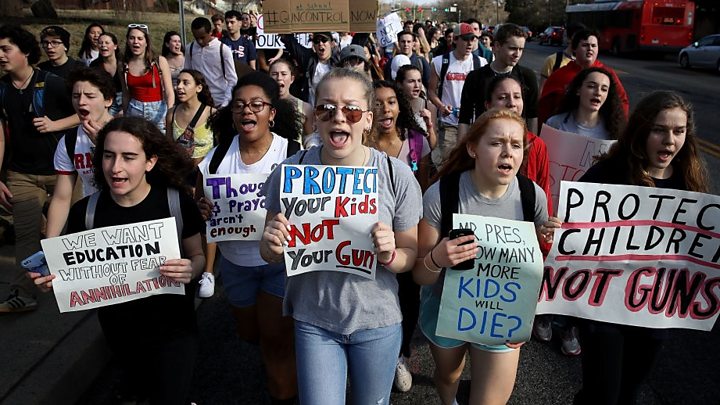 Yes. On top of a protest movement started by Florida shooting survivors, a growing number of companies have cut ties with America's main gun lobby, the National Rifle Association (NRA).
These include:
United and Delta airlines and rental giants Hertz and Enterprise, which have stopped offering discounts to NRA members
The family-owned First National Bank of Omaha said it would not renew NRA-branded credit cards, citing "customer feedback"
Insurance firm Chubb said it had stopped underwriting an NRA-branded insurance policy three months ago
Insurer MetLife Inc also cut ties
Two major retailers have also announced new restrictions on gun sales.
Dick's Sporting Goods, which has more than 600 shops, said it would no longer sell assault-style rifles, and backed "common sense gun reform".
American Outdoor Brands, meanwhile, reported a 33% year-on-year decline in quarterly sales on Thursday.
Walmart said it was raising the minimum age for anyone buying guns or ammunition to 21 years.
Meanwhile, President Donald Trump stunned lawmakers from both parties by accusing them of being "petrified" of the NRA during a meeting at the White House.
But the following day he described a meeting with a top NRA lobbyist as "great".
How has the gun lobby responded?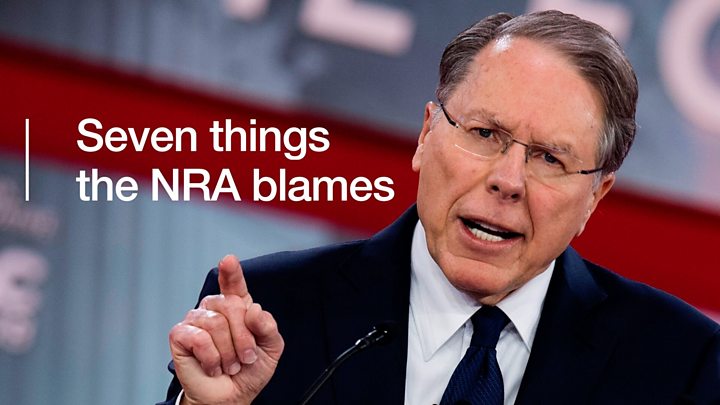 Since the 14 February attack on the Florida school the NRA has become a target of a heated campaign for tougher gun laws.
But it has not shown any sign of bending to the pressure.
Dana Loesch, a spokeswoman for the group, told ABC News that "the NRA doesn't back any ban" on guns.
She said the massacres like that in Florida were not caused by the NRA.
The group defended itself on Twitter, saying people upset about the shooting should focus on lapses by law enforcement.
NRA chief executive Wayne LaPierre has said "opportunists" are using the Florida tragedy to expand gun control and abolish US gun rights.
What happened in Florida?
On 14 February, 17 people were killed and many more were injured when a gunman opened fire at Marjory Stoneman Douglas High School in Parkland, Florida.
Police say Nikolas Cruz, an expelled former student, was carrying an AR-15 rifle, which he had bought legally, and several magazines of ammunition when he began the attack.
He is being held in police custody.