Texas primary: Support for Democrats and women surges
The first major vote of 2018 - the Texas primary - saw a surge in women candidates and a million Democrats turn out. What does it tell us about the state of US politics in a crucial election year?
"Historically, those in the White House have a little bit of a dip," President Trump acknowledged this week when asked about the mid-term elections which will take place across the country in November.
The vote tends to be seen as a referendum on the president - even though he will not be on the ballot himself - and will determine if his Republican party retains control of Congress.
There's a long way to go in this campaign, of course, and before Republicans and Democrats go head to head, the parties have to pick their candidates in primary races.
What happened in Texas on Tuesday gives us some clues about trends that may play out in other states.
50 women ran for Congress in Texas, over half will advance to general election or runoff
Texas could elect a Latina to Congress for the first time in history. Or maybe even two.
Veronica Escobar and Sylvia Garcia both won primaries in districts that are expected to go to the Democrats in November.
Overall, women won big in the Texas primary, just 14 months after President Trump's inauguration and the Women's March on Washington.
"It's Trump. It's Trump," Ms Escobar told the AP about why a record number of Democrats came out to vote - and did so for women candidates.
"I've spoken to innumerable senior citizens, retirees, parents of disabled children, people who understand what this administration means to their families. And they're afraid", she said.
Every candidate backed by the group Emily's List, which aims to elect pro-choice women, either won or advanced to a runoff, according to Vox.
One million Democrats cast votes in the primary
To put this in perspective, the last time Texas Democrats surpassed the one million mark in a mid-term primary was in 2002.
Enthusiasm is always important for political campaigns, but especially so for mid-terms when turnout tends to be down compared to presidential elections.
"That matters when it comes to knocking on doors, making phone calls, putting up signs - all of the grassroots activity that comes to winning congressional races in the fall," congressional elections expert David Wasserman told Reuters news agency.
Texas is a traditionally Republican state - and far more Republicans turned out this time too - but Democrats believe the state is becoming increasingly competitive.
Mr Trump won Texas by nine points over Hillary Clinton in 2016, the smallest margin by a Republican in two decades.
This year, Democrats are targeting three Republican-controlled Congressional seats in districts that went for Mrs Clinton.
'This is not a spectator sport," Democrat Gina Ortiz-Jones told CNBC. "We've got to participate, all of us and that's what's important." Ortiz-Jones advanced to a 22 May runoff in one of these districts along the Texas-Mexico border.
In a Dallas-area county won by Clinton in 2016, Republican congressman Pete Sessions will likely be challenged by former NFL player Colin Allred, who came in first in the primary, assuming he wins the runoff in May.
Money mattered less
Several well-funded Democratic candidates were ousted by competitors who raised far less.
Ed Meier brought in $913,430 (£657,000) and aired expensive adverts on television in the Dallas area.
He finished in fourth place in his district and was beaten by Allred, the former NFL player, who did not air any adverts.
Houston-area Alex Triantaphyllis raised more than $1m but also finished behind his three opponents.
Jay Hulings of 23rd district in Texas raised $498,638, but failed to make the top two. His opponents will go to a runoff without him.
And it was not all good news for women with wealth, either.
Republican candidate Kathleen Wall donated $6m to her own campaign but failed to advance to the mid-term election, The Hill reports.
Ted Cruz is still a force
Although Democrats came out in record numbers during early voting in the Lone Star state's most populous counties, Republican incumbent for Senate and former presidential candidate Ted Cruz maintains a strong foothold.
His challenger, current US Representative Beto O'Rourke, picked up over 641,000 votes in the primaries but faces the challenge of having to unite the party after a surprising outpouring of support for his competitors.
His two relatively unknown rivals, Sema Hernandez and Edward Kimbrough, picked up 246,000 and 150,000 votes respectively.
Mr Cruz, the incumbent, won 1.3m votes in the primary. He will be hard to beat, despite Mr O'Rourke's growing name recognition.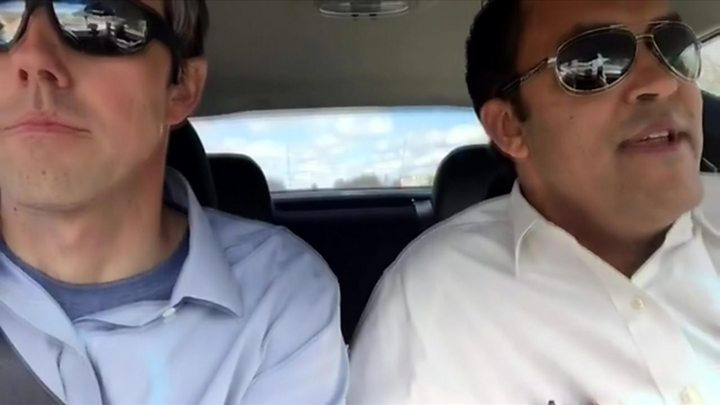 Mr Cruz wasted no time turning on his Democratic opponent, and released an advert on the radio just after Mr O'Rourke's nomination was secured.
"If you're going to run in Texas, you can't be a liberal man," the advert said.
Mr O'Rourke "wants those open borders, and wants to take our guns," Mr Cruz said of the El Paso native.
He warned Republicans that if they stayed at home they would risk losing both the House of Representatives and the Senate to Democrats next fall.
Democrats need two more seats in the Senate and 24 seats in the House to gain control of both chambers of Congress.