Kim Kardashian: Feminist icon or emoji opportunist?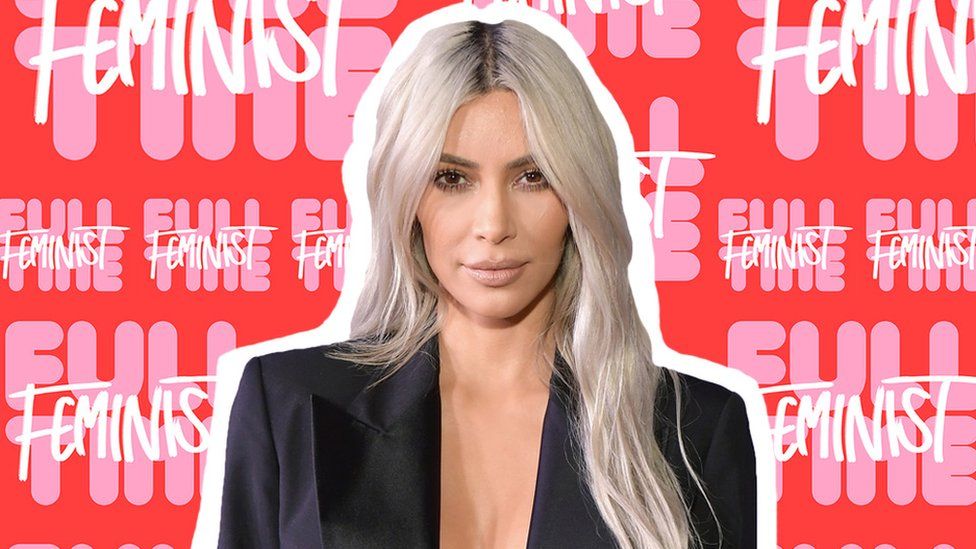 The Kardashians are some of the most divisive figures in popular celebrity culture - spearheaded by Hollywood socialite Kim's rise to fame, the family have become household names.
Together they have a reality television show which recently celebrated its 10th anniversary. The programme has spawned multiple spin-offs and an ever-growing family business empire.
Love them or loathe them, the Kardashians have made tens of millions by using their celebrity to become powerhouses of the beauty, tech and fashion industries.
But Kim Kardashian's decision to launch a "women's empowerment" add-on to her personal emoji collection for International Women's Day has received a considerable online backlash.
The collection features slogans such as "nasty woman", "my body, my choice" and "full time feminist".
Some on social media celebrated the move as positive promotion of ideals of equality. Others accused the personality of hypocrisy because her other products and emojis are provocative and sexualised.
The BBC is not responsible for the content of external sites.
The BBC is not responsible for the content of external sites.
But this kind of controversy around Kim, in particular, is nothing new.
In 2016, she posted a naked (but censored) picture of herself around International Women's Day to her millions of online followers and provoked a Twitterstorm. Celebrities such as Bette Midler and Pink criticised her. Others, such as Miley Cyrus, posed nude in solidarity.
The BBC is not responsible for the content of external sites.
Skip twitter post 3 by P!nk
Allow Twitter content?
This article contains content provided by Twitter. We ask for your permission before anything is loaded, as they may be using cookies and other technologies. You may want to read Twitter's cookie policy, external and privacy policy, external before accepting. To view this content choose 'accept and continue'.
The BBC is not responsible for the content of external sites.
End of twitter post 3 by P!nk
She criticised comments labelling her a "bad role model" for the image, and hit out at people bringing up a sex tape that was released without her permission in 2007.
"I am more than something that happened 13 years ago," she wrote in 2016.
"I am empowered by my body. I am empowered by my sexuality. I am empowered by feeling comfortable in my skin... I hope that through this platform I have been given, I can encourage the same empowerment for girls and women all over the world."
The debate around whether nudity has a place in modern-day feminism is not isolated to the Kardashians.
She responded angrily, asking what her body had to do with her feminist politics.
More on International Women's Day:
"As an intersectional feminist, I advocate for women from all walks of life and think that all women should be allowed to do whatever they want with their bodies."
Kathryn Trevenen, associate professor at the University of Ottawa Institute of Feminist and Gender Studies, told the BBC that comments about how celebrities such as Kim Kardashian presented themselves demonstrated how much women's bodies were still "policed".
"I worry about the ways in which critiques focus on her femininity, her sex tape and her sexuality," she said.
"This is very a common shaming technique. But also, this is very on-brand for her. I'd be more interested [in the emojis] if it was more provocative."
But she pointed to "much more interesting" dialogue and work of celebrities such as US rapper Cardi B, who has spoken candidly about her former career in sex work.
"Kim is so famous that she gets the attention - but it's not a big change," she told the BBC.
"She's not the best to talk about. There are so many other women - indigenous women, women of colour - in front of important struggles."
Part of the social media debate about the Kimojis is that Kim previously said she resisted the term "feminist" because she did not believe in labels.
"I'll always fight for women's rights. Always," she said in a 2016 blog post. "I support women to the fullest. But, at the end of the day, no one should feel pressured to be labelled as anything just because they believe in certain things and support certain values or ideals."
People on social media questioned if the emoji launch meant she had changed her mind on the term.
Dr Cynthia Carter, who specialises in feminist media studies at Cardiff University, acknowledged that many feminist academics took issue with self-objectification by celebrities such as Kim Kardashian or Beyonce.
"But if someone wants to call themselves a feminist, they should be able to," she said.
"Who is to say that there has to be one type of feminist and everyone has to sing from the same hymn sheet?" she told the BBC, adding that she thought feminism should be a dialogue, and not a hierarchy.
Some on social media accused Kim of using feminism and International Women's Day to profit financially with a $2.99 price tag.
One Twitter user replied to her: "So it's less about empowering women but empowering your bank account."
Another replied: "You could have and should have offered this one download for free. Feminism is not for sale or your profit."
The BBC is not responsible for the content of external sites.
Ms Carter echoed that concern: "Where you could critique her is this conflation of capitalism, and all the inherent inequalities that come from that."
She believes the problem is not with individuals like Kim, but with wider society's selection of idols: "Why not think of role models more widely than just celebrities? Women in business, in academia, or in science? Especially on International Women's Day, we need to broaden our focus here."