Report finds US hospital failed to protect infants from abuse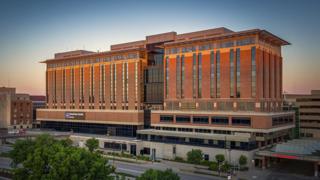 A federal investigation has found a Wisconsin hospital did not do enough to protect newborn infants from abuse, a report obtained by US media says.
Five infants were found with unexplained injuries, ranging from bruising to skull and arm fractures.
Documents show the hospital did not take action over the suspected abuse until last month when two babies were found with bruises.
An internal review found two similar cases in 2017 and another in January.
Investigators for the Centers for Medicare and Medicaid Services (CMS) told the hospital in a letter last month that the issue was "so serious that it constitutes an immediate threat to patient health safety", according to the Wisconsin State Journal newspaper, citing the report.
The federal agency threatened to cancel its contract with the hospital.
UnityPoint Health-Meriter Hospital, located in the state's capital of Madison, said it is co-operating with authorities and implementing a new safety plan.
A nurse who was found to have been caring for several of the infants involved has been suspended from the hospital, according to the newspaper.
---
Timeline of events:
2 February 2018 - Interviews show physicians and nurses concerned by unexplained bruising on infant
3 February 2018 - More unexplained bruising found on right arm and left wrist of another baby, attributed to blanket wrapping
4 February 2018 - Staff notices bruising on the same baby's face
7 February 2018 - A lump is found on the babies head
8 February 2018 - CT scan shows baby had skull and arm fractures, child abuse expert called, nurse suspended
9 February 2018 - Madison police notified, internal investigation begins
---
Investigators found reports of unexplained bruising on at least one infant as early as April of 2017, according to the report.
But concerns of abuse were not reported until 2 February 2018, CMS documents show. A nurse in the facility reported bruising on one of the babies, prompting questions about other injured infants.
A child abuse expert was not called until 8 February, six days later, the investigation found.
After notifying parents, officials uncovered another reported incident in January involving a baby's fractured ribs and arms, initially written off as part of a traumatic birth.
The Wisconsin hospital "failed to develop and implement an effective policy to prevent, screen, identify, train, protect, thoroughly investigate, report, and respond to any allegations of suspected abuse related to injuries of unknown origin", the CMS report said.
Meriter has said it will place a security guard in the newborn unit and put cameras in all the rooms to ensure no abuse occurs, according to the hospital's "plan of correction".
In addition to suspending the nurse, all nurses will now supervise two babies instead of three.