East River helicopter crash kills five in New York City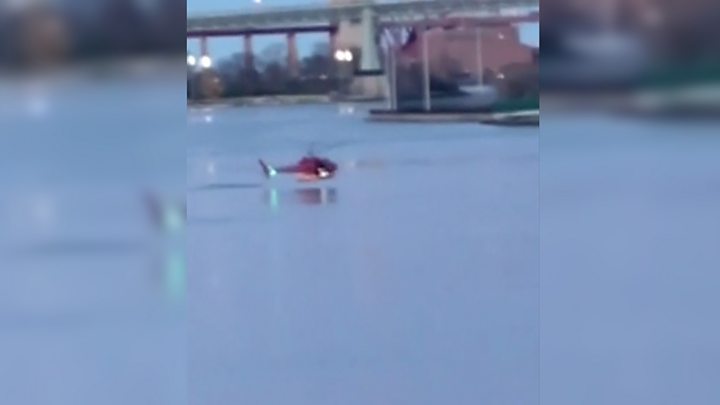 Five people were killed when a helicopter crashed into the East River of New York City on Sunday evening.
Divers pulled the five passengers from the aircraft, but two died at the scene while the other three died in hospital.
The pilot managed to free himself and was rescued by a passing tugboat after the helicopter crashed near Roosevelt Island.
US media report that a passenger's bag may have accidentally hit the fuel shutoff button of the helicopter.
Police commissioner James O'Neill told reporters it had been privately leased by a group of photographers.
Video posted on social media showed a red helicopter appearing to make a semi-controlled descent at around 19:00 (23:00 GMT) before landing with some force in the water.
It then began to tip over, its rotors still spinning and slicing into the water.
New York media identified the pilot as Richard Vance, 33, who was treated and released from hospital.
He had worked for the New Jersey-based company Liberty Helicopters for "a couple years", his father Anthony Vance told the New York Post.
According to the company website, Liberty Helicopters is the only helicopter charter in New York City that has a special federal aviation authorisation to fly within 1,000ft (304m) of the Statue of Liberty.
New York media named the five dead as Trevor Cadigan, a video journalist from Dallas, Texas, Brian McDaniel, a Texas fireman, Argentine tourist Carla Vallejos Blanco, and two helicopter employees, Daniel Thompson and Tristan Hill.
At a press conference, New York Fire Commissioner Daniel Nigro called the crash a "great tragedy".
"We are told the five people were all tied tightly in harnesses that had to be cut and removed," he said.
"It took a while for the divers to get these people out. They worked very quickly, as fast as they could. That's 50ft [15m] of water there."
The divers had to work against currents and water temperatures of below 40F (4C), he added.
Journalists at the scene reported seeing CPR being performed on the rescued passengers as they were rushed to ambulances.
The Federal Aviation Authority said it was investigating the incident.
The National Transportation Safety Board would determine the cause, it added.