Deadly Texas parcel bomb attacks 'linked'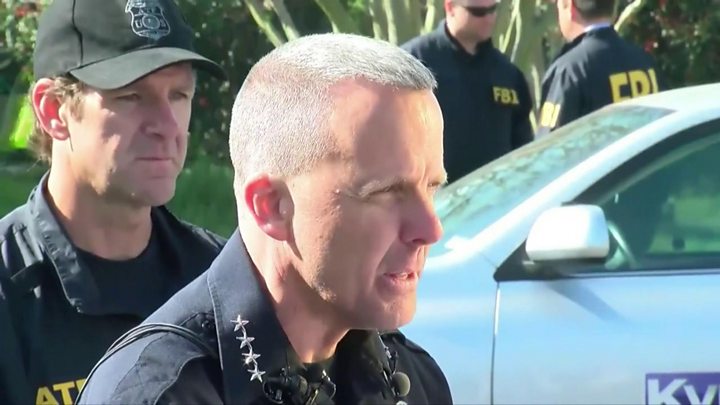 Two parcel bombs that left a teenager dead and two others injured in Austin, Texas are believed to be linked to a case earlier this month, police say.
A 17-year-old boy died after opening a parcel and a woman in her 40s was wounded in the explosion, Austin Police Chief Brian Manley said.
A 75-year-old Hispanic woman was also hurt when a parcel exploded elsewhere in the city on Monday, he said.
Police say they have yet to determine a motive in the three attacks.
The two explosions on Monday came less than two weeks after a similar blast killed a 39-year-old black man at his home in the Texas capital.
"This is the third in what we believe to be related incidents over the past 10 days," Chief Manley said while speaking to reporters near the site of Monday's second explosion.
Authorities are looking into whether race played a role as the victims in two of the cases were African American while the third blast injured a Hispanic woman.
Mr Manley had earlier suggested that the attacks could have been hate crimes, but later said police have yet to establish a motive.
"We are not ruling anything out at this point," he said. "We are willing to investigate any avenue that may be involved."
Investigators said at the time they believed that the explosion in north-east Austin on 2 March was an isolated incident.
But on Monday Austin police said they suspect the earlier fatality, initially treated as a suspicious death, was linked to Monday's death. Both are now being investigated as homicides.
Monday's first blast happened at 06:44 local time (11:44 GMT) on Monday.
The Austin police bomb squad, the Austin Fire Department, the FBI, the Bureau of Alcohol, Tobacco, Firearms and Explosives and postal inspectors responded to the scene.
Mr Manley told reporters: "Early this morning one of the residents went out front and there was a package on the front door step.
"They brought that package inside the residence and as they opened that package both victims were in the kitchen and the package exploded causing the injuries that resulted in the young man's death and the injuries to the adult female."
The house sustained significant damage, according to Chief Manley.
Authorities were called to another residence where a separate explosion injured a 75-year-old Hispanic woman. She was taken to hospital with potentially life-threatening injuries.
He said investigators had determined in all three cases the parcels did not go through the US Postal Service, meaning they had probably been hand delivered.
Chief Manley said the bombs were in an "average-size letter box" and "not particularly large".
The police chief advised the public to be wary of un-franked and unexpected packages.