Pompeo replaces Tillerson. Where does that take US foreign policy?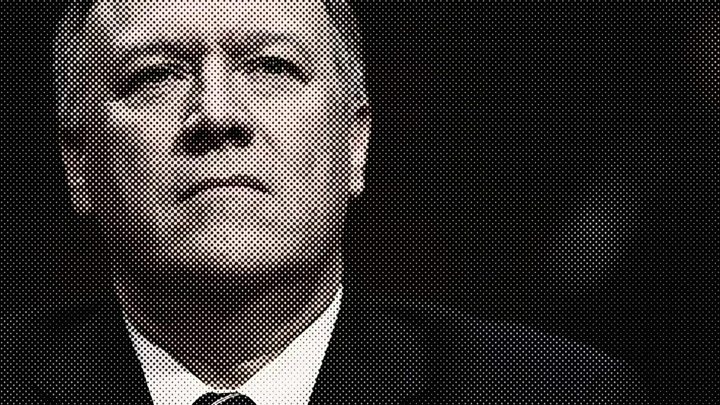 Rex Tillerson never quite got his feet under the table at the State Department.
In the 14 months he was in charge, he too often denied Donald Trump the absolute loyalty the president craves. In return, he was frequently and publicly undermined by Mr Trump, right up until his sacking-by-tweet on Tuesday.
Mr Tillerson's brief tenure saw the department gutted by budget cuts and hamstrung by unfilled senior positions. The staff appeared to have little good to say about him. External reviews generally rated him somewhere between ineffectual and the worst secretary of state on record.
But he was also seen as a bulwark against some of the president's more volatile foreign policy instincts, on Iran, North Korea, and Russia. Where Mr Trump sought to rip up treaties and trade agreements, Mr Tillerson appeared to favour stability and continuity.
He will be replaced by the director of the CIA, Mike Pompeo, a hawkish, Trump loyalist whose foreign policy positions are much more closely aligned with the president's.
Mr Pompeo's easy relationship with Mr Trump might boost the State Department's standing with the administration. It could also remove a key check on the White House. Here are four key foreign policy areas the appointment might most visibly play out.
Iran
The president made it clear when he announced the change that his disagreement with Mr Tillerson over Iran was a factor. "When you look at the Iran deal, I think it's terrible. I guess he thought it was OK," he said.
"With Mike, Mike Pompeo, we have a very similar thought process. I think it's going to go very well."
Mr Trump has railed against the Iran deal since 2015 and threatened throughout his early presidency to pull out. The Joint Comprehensive Programme of Action (JCPOA), as it is officially known, is an Obama-era deal between the US, UK, Russia, France, China, Germany and Iran, designed to limit Iran's nuclear programme in return for the lifting of sanctions.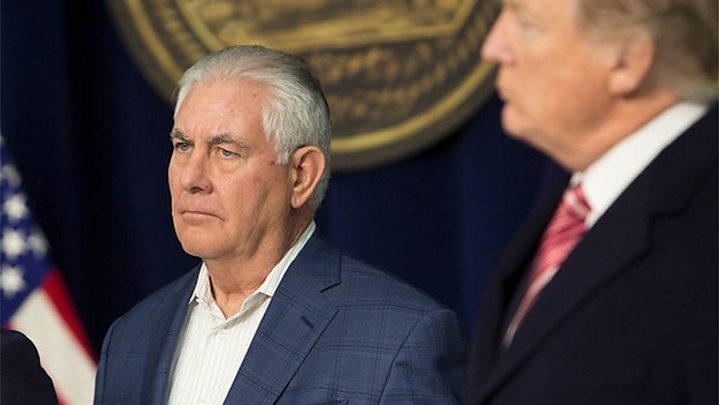 Mr Tillerson supported the deal and appeared to have some success warding the president off ripping it up, a move which would strain relations with the other powers involved, who insist the deal cannot be renegotiated.
Representatives from the European nations have reportedly been meeting state department officials in recent weeks an attempt to protect the deal. That effort may now face an additional hurdle with the appointment of Mr Pompeo.
As a congressman, he fiercely opposed the deal and he has been frequently critical of Iran. "The notion that [Iran's] entry into the JCPOA would curtail Iranian adventurism, the terror threat or their malignant behaviour has proven to be fundamentally false," he said in October.
North Korea
Mr Pompeo joins the state department just days after President Trump's surprise decision to meet North Korean leader Kim Jong-un for talks, a prospect experts agree the department, with key Korea positions unfilled, is fundamentally unprepared for.
Mr Tillerson was a frequent advocate of improving diplomatic relations with North Korea, a position that won him scorn from Mr Trump.
"I told Rex Tillerson, our wonderful Secretary of State, that he is wasting his time trying to negotiate with Little Rocket Man", the president tweeted in October, using a nickname for Mr Kim.
Mr Pompeo has taken a much harder line on North Korea, suggesting at a security conference last year that he supported regime change and recommending during a recent Fox News appearance that the US make "no concessions" in negotiations with Pyongyang.
If Mr Pompeo can bolster the state department's Korea expertise in short order, he may help take the US into a summit in a stronger position. But his hardline stance on Pyongyang could also scupper talks with a notoriously sensitive regime.
If he steers the administration to abandoning the Iran deal before Mr Trump and Mr Kim even sit down, North Korea would arguably have even less reason to take the Americans in good faith.
Russia
Mr Pompeo's loyalties to the president are perhaps most on show when it comes to Russia. As a Republican congressman, he crowed about the Democratic Party hack allegedly orchestrated by Russia.
In a now-deleted tweet, he wrote: "Need further proof that the fix was in from Pres. Obama on down? BUSTED: 19,252 Emails from DNC Leaked by WikiLeaks."
Mr Tillerson several times put himself at odds with Mr Trump by taking a harder line than the president on alleged Russian interference in the US election. By contrast, Mr Pompeo said in January there was a "Washington-based focus on Russian interference. I want to make sure we broaden the conversation".
As CIA director, he said in October that US intelligence agencies had concluded that Russian interference did not affect the outcome of the 2016 US election - a remark the CIA later had to walk back, reasserting that the intelligence community had made no such determination.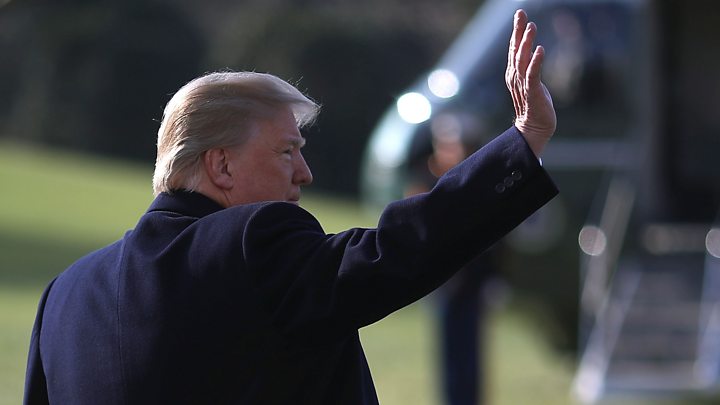 In the end, Mr Tillerson's stance on Russia may have been the final straw for him. Earlier this week, while the president conspicuously omitted to support the UK's conclusion that Russia probably directed an assassination attempt on its soil, Mr Tillerson asserted that the poison used "clearly" came from Russia and promised a response.
Hours later, he was sacked.
The appointment of Mr Pompeo may give Mr Trump a secretary of state prepared to take a softer line on alleged Russian interference in the election, but it does not remove the sharpest Russia thorn - Robert Mueller's special counsel investigation into alleged collusion.
Syria
Mr Trump's National Security Adviser HR McMaster and Secretary of Defence James Mattis are seen to have been counterweights to the president's more assertive foreign policy instincts, but both men are also rumoured to be on borrowed time, particularly Gen McMaster.
Mr Pompeo has shown a more aggressive streak. He has criticised Iranian and Russian expansionism, accusing both of meddling in Syria, and pushed back against Russia's actions in Ukraine. As CIA director, he presided over a major increase in CIA operations in Afghanistan.
His appointment, and a possible weakening of the positions of Gen McMaster and Mr Mattis, could shift the administration's policy on Syria, said analyst Charles Lister in a briefing note from the Middle East Institute.
"Mike Pompeo's appointment as secretary of state is likely to embolden those within the Trump administration who seek to further amplify a more assertive posture within the Syrian crisis," he said.