Rex Tillerson: World media brace for a more hawkish America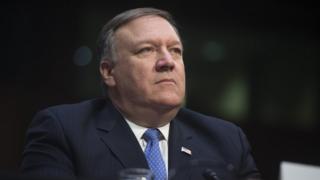 The replacement of US Secretary of State Rex Tillerson by former CIA director Mike Pompeo featured prominently in news bulletins and headlines worldwide. 
Quite a few commentators are wary of Mr Pompeo. He is known to be more hawkish than Mr Tillerson and a number of pundits remember unfavourable comments he has made on their countries in the past.  
Many expect a tougher line from him and worry about what this means for international and bilateral relations.
Iranian nuclear fears
Tillerson's sacking was widely reported on all Iranian media outlets, with one of the main state radio stations describing it as "new political turbulence" in Washington. 
The general sentiment of responses in newspapers is that Mr Trump is putting together a team hostile to the Joint Comprehensive Plan of Action (JCPOA) on Iran's nuclear programme, in order to change the deal. 
This is the case from both reformist and conservative political camps.
"Tillerson's dismissal was to dismiss the JCPOA," said one headline in the hardline newspaper Javan. "Anti-JCPOA circle completed in the White House," read another in the pro-reform Afkar.
Gulf Arab relief
In the Gulf, Mr Tillerson's exit has been touted by some on Twitter as a sign of successful diplomatic pressure from the United Arab Emirates and Saudi Arabia for him to go, over his lack of support for their economic blockade against Qatar.
The hashtag #Tillerson in Arabic was the top trend in the UAE and one of the more popular tweets was from an Emirati political science professor Abdul Khaleq Abdullah saying "History will relay that a Gulf country had a role in the firing of the secretary of state of a great power."
"It is worthy to note that the decision coincided with Trump's anticipation of Saudi Crown Prince Mohammed bin Salman's visit," added one Saudi user.
Message to North Korea?
China, Japan and South Korea believe the appointment will not change bilateral relations with the US but there are concerns for what it will mean in negotiations in general and with North Korea. 
One of China's main newspapers, The Global Times, noted that most of those who had left or been fired from Trump's team were "moderates" like Mr Tillerson.
"As soon as Pompeo enters the State Department, those brakes that Tillerson helped Trump step on will turn immediately into his constant throttle," said the paper's editorial.
South Korea's news agency Yonhap echoed this wariness: "Tillerson is known for his relatively dovish approach toward North Korea... he has sought to resolve the North's nuclear and missile issues through peaceful methods, including talks and dialogue."
Some also took the move as a signal of Mr Trump's seriousness in wanting to meet North Korean leader Kim Jong-un.
The Korea Herald quoted a university professor saying that giving Mr Pompeo the task of preparing for North Korea-US talks signalled Mr Trump's determination to negotiate with Mr Kim.
North Korean media have not yet been observed to comment in response. 
Turkish wariness
Turkish media also noted America's likely change of tone with Mr Pompeo. "Rex left, hawk came" was the headline on the mainstream newspaper Hurriyet.
Mr Pompeo has a reputation in Turkish media for having anti-Turkish views, having previously categorised the country as a "totalitarian Islamist dictatorship".  
Mr Tillerson's going also prompted some concern for a deal Turkey just struck with the US over Manbij, a Kurdish-held town in northern Syria where Turkey is currently carrying out ground operations against Kurdish fighters.Turkish Foreign Minister Mevlut Cavusoglu was due to meet Mr Tillerson in Washington on 19 March to discuss details.
Low expectations in Russia
In Russia, commentators shrugged off the move to an extent, given the already tense relations between the two countries.  
"Amid a cold war between Russia and the US, the reshuffle of people at top state posts... does not influence Washington's policy," said one pundit in the business daily RBC.
Another commentator in the moderate newspaper Izvestia echoed this view but added that accusations of interfering in the US domestic affairs might "become far more bitter". 
Popular daily Moskovsky Komsomolets also warned that  a "friendly disposition towards our country should not be expected from Pompeo". 
Venezuela's 'recurring nightmare'
Mr Pompeo's appointment also raised concerns in Latin America, particularly in Venezuela.
Opposition news website La Patilla saw Mr Pompeo as a "recurring nightmare" for left-wing Venezuelan President Nicolas Maduro, a fierce critic of Mr Trump and his policies.
The pro-government news website La Iguana TV noted that Mr Pompeo was among the "main initiators" of US economic sanctions against Venezuela and said he had been "more aggressive" towards Venezuela than Mr Tillerson.
BBC Monitoring reports and analyses news from TV, radio, web and print media around the world. You can follow BBC Monitoring on Twitter and Facebook.