Lawsuit over Broadway play To Kill a Mockingbird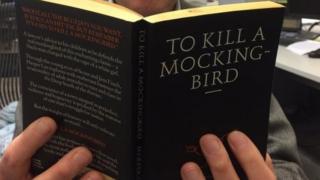 The estate of To Kill a Mockingbird author Harper Lee is suing the producers of a much-anticipated Broadway adaptation of the US novel.
The estate argues that the play's script differs too much from the book about race relations in the Deep South.
Play producer Scott Rudin denies this, saying his team - not the estate - has the final say over the script.
Harper Lee's novel was written in 1960. It remains a towering presence in American literature.
It won the Pulitzer Prize in literature in 1961.
Harper Lee died in 2016 at the age of 89.
What are the estate's arguments?
The lawsuit was filed after estate representative Tonja B. Carter read the script of the play written by Aaron Sorkin.
The estate says that some characters are altered. This includes protagonist Atticus Finch, the lawyer who defends a black man falsely accused of rape.
The main character, the lawsuit argues, is portrayed as initially being naive to racism.
It also alleges that the script does not present a fair depiction of small-town Alabama in the 1930s.
What do the play producers' say?
Scott Rudin's representatives say that it is up to the producers to judge whether the adaptation is faithful to the novel.
"I can't and won't present a play that feels like it was written in the year the book was written in terms of its racial politics: it wouldn't be of interest," Mr Rudin was quoted as saying by the New York Times, who first reported on the lawsuit.
"The world has changed since then," Mr Rudin added.
The Broadway play is expected to open in December.
To Kill a Mockingbird - at a glance
In the small fictional town of Maycomb in the depression-ravaged American South, a black man named Tom Robinson is falsely accused of raping a white woman.
A lawyer named Atticus Finch defends Robinson in court. The frenzy stirred up by the case and her father's quest for justice are seen through the eyes of Finch's six-year-old daughter Scout.
To Kill a Mockingbird
5,000
copies in initial print run
$20,000
value of a signed first-edition copy
Over 40m global sales

40 languages into which it has been translated

8 Oscar nominations for 1962 film version

3 Oscar wins
Getty
The book explores issues of race, class and the loss of innocence.
In 1962, it was made into a film starring Gregory Peck as Atticus Finch and Mary Badham as Scout.
Actor Jeff Daniels is lined up to play Atticus Finch in the stage version.