Charleston church gunman Dylann Roof's sister in knife arrest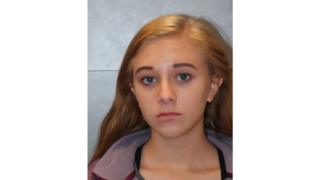 The sister of the man convicted of a mass shooting at a South Carolina church has been arrested for carrying a knife at her school in Columbia, SC.
Morgan Roof, 18, was also charged on Wednesday for having pepper spray and marijuana, according to local sheriffs.
Investigators also said she posted a racially charged Snapchat post on the morning of the national student protest walkout calling for gun reform.
No-one was harmed and Ms Roof was not allowed to return to the school.
Two other students were also arrested on Wednesday for carrying weapons on the grounds of Ms Roof's school, AC Flora High School, local media reported.
Authorities found an unloaded handgun which students reportedly saw one of the 16-year-olds throw into a bush.
The incidents at the school are being treated separately, according to the school's principal, who shared a letter on the school's Twitter page.
In her social media post, Ms Roof seemed opposed to her classmates joining the thousands of students across the US walking out of class in memory of the 17 people killed at a Florida school last month.
Her racially charged post said in part, "I hope it's a trap and y'all get shot", US media reported.
South Carolina Governor Henry McMaster responded to the multiple arrests by tweeting: "Potential tragedy was avoided at AC Flora High School."
He is calling for "placing a trained, certified police officer in every school, in every county, all day, every day".
Ms Roof's brother is Dylann Roof, the avowed white supremacist who fatally shot African-Americans at a historic black church in 2015.
Roof pleaded guilty to nine counts of murder and three counts of attempted murder, and is currently on death row in Indiana.