Why doesn't Trump fire people to their face?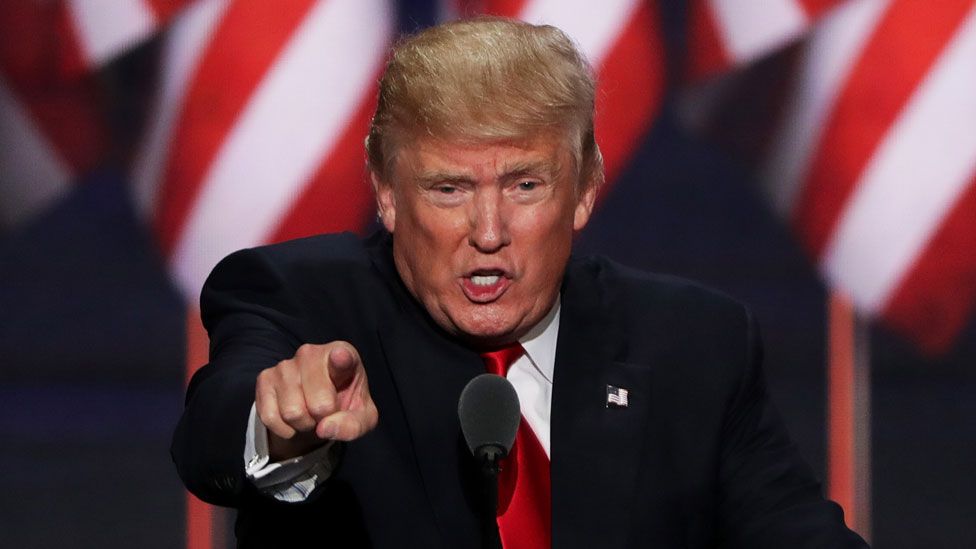 Donald Trump, who built his career as a New York real estate mogul, became a reality television star by directly and dramatically sacking contestants on The Apprentice at the end of every show.
Only the strong survived, and the weakest competitors were told their shortcomings to their face and summarily dismissed with the catchphrase "You're fired!"
The Apprentice made for compelling television - 28 million Americans watched the first season finale - and helped cement Mr Trump's reputation as a take-charge, high-flying businessman among many Americans. It's a perception that candidate Trump capitalised on during his presidential campaign.
"When you cast that ballot, just picture a Wall Street boardroom filled with the special interests who have been bleeding your country and your city and every place else, and imagine the look on their faces when you tell them you're fired. Fired!" Mr Trump said at a 30 September, 2016, campaign rally.
Since becoming president he's had plenty of staff turnover - but several of his most high-profile dismissals have been carried out in a decidedly different manner.
James Comey, the FBI director that Mr Trump let go in May 2017, learned he was out by watching cable news while on a government trip to Los Angeles. The president's personal aide would later hand-deliver a letter with official confirmation.
Earlier this week, Secretary of State Rex Tillerson reportedly got the bad news when the president announced his replacement on Twitter. He had spent the last week in Africa and, according to some accounts, was only vaguely informed a few days earlier by Chief of Staff John Kelly that the president was considering a change.
This is not, needless to say, a commonly accepted way of dismissing employees.
"The right way to fire someone is in a manner that upholds their dignity, and shows them some respect, and gives them thanks for the service they provided, especially if they've done nothing wrong, violated the law or anything like that," says Michael McDermott, a management professor at the Georgetown University McDonough School of Business.
"I can't think of any business, organisation or government entity that has any kind of oversight that would tolerate this kind of behaviour in their chief executive officer."
He said doing a termination in person helps ease the shock and provide some comfort and reassurance.
"I think you saw even in Rex Tillerson, he was a little bit emotionally shaken by how it's happened," he added. "He's independently wealthy, he's had a very successful life, yet it was somewhat traumatic for him."
There have been other prominent White House sackings - including presidential adviser Steve Bannon, communications director Anthony Scaramucci and White House staff secretary Rob Porter. Those were reportedly all handled by Mr Kelly, without the president's direct involvement.
Reince Priebus, Mr Trump's first chief of staff, technically resigned - but the news was made public without his prior knowledge, via another presidential tweet.
The president has also publicly criticised or rebuked other members of his administration - including Attorney General Jeff Sessions, Deputy Attorney General Rod Rosenstein and National Security Advisor HR McMaster - while reportedly privately mulling their dismissal or hoping they would resign. At least so far, however, Mr Trump has refrained from pulling the trigger.
This all fits with a picture painted of Trump the real-world businessman, in a July 2016 Politico article by Michael Krause.
"Rather than magisterial and decisive, Trump the actual boss swings wildly between micromanaging meddler and can't-be-bothered, broad-brush, big-picture thinker," Krause writes.
"He is both impulsive and intuitive, for better and for worse. He hires on gut instinct rather than qualifications; he listens to others, but not as much or as often as he listens to himself. He's loyal - 'like, this great loyalty freak' as he once put it - except when he's not."
Until he became president, Mr Trump was the king of his family-business empire, a decidedly different experience than that of governing in a constitutional democracy, with its checks-and-balances, consensus-building requirements and constant, white-hot scrutiny.
During a televised town hall forum on 29 March, 2016, Mr Trump boasted that firing people was easy - but he gave a clue, perhaps, of why he's so frequently shied away from the act.
When asked why he hadn't sacked his then-campaign manager, Corey Lewandowski, who was accused of assaulting a female reporter. Mr Trump replied.
"I'm a loyal person," he said. "It would be so easy for me to terminate this man, ruin his life, ruin his family, he's got four beautiful children in New Hampshire, ruin his whole everything and say 'You're fired.' I've fired many people, especially on The Apprentice."
Lewandowski was eventually let go, three months later - and the news was delivered not by the candidate, but by his son, Donald Jr.
According to McDermott, the decision to fire someone can require an amount of courage. Telling a person they are no longer wanted or needed can be an uncomfortable situation.
"It gets to a leader's style," he says. "If you see people as objects to be used to achieve your ends, you're almost in a position where you don't have to show them respect as people, you just have to remove the chess piece from the board because it's an object."