Austin bombings: Texas city rattled by bomb attacks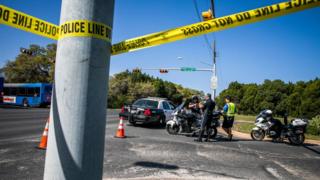 The danger may be over but a string of bombings have rattled Austin's belief in itself as a laid-back oasis, as it now confronts the sort of stomach-churning headlines usually associated with bigger American cities.
Around the Texas state capital, the sound of sirens has been more frequent over the past few days.
Hundreds of personnel including police, FBI agents, Texas Department of Public Safety troopers and bomb technicians have been working the case.
It appears that investigation has finally proved successful as a man suspected of the bombings detonated a device killing himself on Wednesday morning as officers attempted to arrest him at a hotel north of the city.
If, as seems likely, that brings to an end three weeks of uncertainty and fear, Austinites are still left trying to unravel events and come to a better understanding of what happened to their city usually famed as a liberal oasis.
Three parcel bombs and a trip-wire device exploded over the course of 17 days in early March, then on Tuesday morning a fifth device exploded at a FedEx facility in the city of San Antonio - the package containing it was en route to Austin.
Before the news emerged overnight that the suspect had been killed, there was a sense of unease.
"I drive down the street where the trip-wire one exploded, so to have something like that five minutes from my house is a shock," says 31-year-old Jesse O'Brien.
"You hear about this type of thing with other cities not Austin," says Brittaney Parsons, sitting opposite Mr O'Brien at Caffe Medici in West Austin.
"We're only known for music festivals and people drinking."
A few blocks from the café a UPS van pulls up to make an afternoon delivery to a house.
"It's on my mind obviously," the driver says, adding he can't give his name as management have banned talking to press.
"I'm not that worried about myself, but I don't want to be the one to deliver one of these packages to a family with children and have to live with that."
Meanwhile, at the neighbourhood's Fire Station No 4, two firemen lift weights in the gym.
"We've scaled back our daily tasks such as fire drills and building inspections as in the current climate we don't want to increase public unease by being too visual," says 30-year-old Alex Paranagua.
"Also, it means we are ready to respond more quickly if needed."
In downtown Austin, the normal hustle and bustle continued during Tuesday afternoon, with people sat outside bars, cafes and stores making the most of the sunshine.
"I am not that surprised given the current political climate of divisiveness that is encouraging so much hate and violence," says 68-year-old Don Rypka outside the flagship Whole Foods Market.
Others, however, are more taken aback.
"Texas is so friendly and community orientated," says mother-of-two Camille Carson at Whole Foods. "Of all the places, Austin is the last one where I'd have thought this could happen."
Before the trip-wire device in southwest Austin that injured two white men, the first three bombs targeted African-American households on the city's less affluent east side that historically has housed black and Latino residents.
Austin has a long-chequered past of racial tensions and inequities at odds with its laid-back reputation.
After the first bomb, people began to question whether Austin's police would have more readily sounded the alarm if the victim had been white and it had happened in a more affluent neighbourhood.
"When does a story pick up stream and why - is it simply because of the volume or because the problem left East Austin [and threatened the rest of the city]," says Kevin Foster, a professor in the African and African Diaspora Studies department at the University of Texas at Austin, and who is involved in community programmes on the East Side.
"I don't know the answer, but we need to ask the question. This community is used to institutional neglect and being marginalised."
Others more closely affected by the bombings' aftermath have been left also mulling on the potentially problematic role of the media.
"The coverage could be making it worse, calling it a serial bomber, with the bomber getting a thrill from it," says Adriana, the 25-year-old grand-daughter of the woman living opposite where the second parcel bomb detonated March 12 killing 17-year-old Draylen Mason.
"We've seen it happening with shootings increasing - people can get the idea from media."
Police say they still don't know the overall motive of the individual who blew himself up this morning, and are looking into whether he had any accomplices. They have also warned that people in Austin need to stay vigilant as they don't know how the suspect has spent the previous 24 hours.
"I've been getting lots of messages from friends in other states checking in with me," says 37-year-old Blair Wagonen, walking her dog in East Austin.
"Unfortunately, I'm not shocked by what's happened given the world we live in. But it is a bit weird given how liberal and community-based Austin is, unlike other big cities - most of my friends here have had the same reaction."
As this week began, most Austinites repeated the refrain heard in other cities hit by attacks - life has to go on as normal as possible. That should be easier now that it appears the bombings are over.
But there remains a sense that people feel caught out and almost let down to find that terrible events can happen in Austin too.
"The more time goes by, this world doesn't seem to be getting better," says 57-year-old John Doyle, a retired firefighter, leaving an HEB supermarket on the east side.
"It makes me think of the Bible's words: We live in perilous times."